Welcome the PopCenturySite.com! We hope you enjoy your stay!
____________________________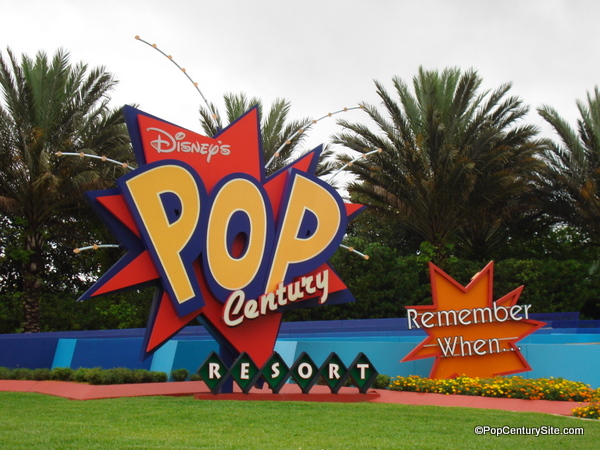 Welcome to the Pop Century Resort Tribute Website! Having stayed at Pop Century Resort on many trips to Walt Disney World, we decided to make a tribute website with information about the resort and lots of photos to hopefully help others in their decision of where to stay in Disney World!
ABOUT DISNEY'S POP CENTURY RESORT
On December 14, 2003, Pop Century Resort's Classic Years opened to the public. This is Walt Disney World's most recently built Value Resort, and it's one of the least expensive ways to stay right on Disney Property.
While the resort might be inexpensive (room costs start at $89 and top out at $194 this year), it's not short on Disney Magic. Pop Century Resort is themed around icons and memories from the 20th century, from Mr. and Mrs. Potatohead, to mood rings and roller blades, to Lady and the Tramp. Each section of the Classic Years part of the resort represents a different decade from the 1950's to the 1990's, and these buildings house 2,880 guest rooms.
And where's the other part of the resort, you ask? Pop Century Resort was originally planned to have two corresponding sections on opposite sides of Hourglass Lake.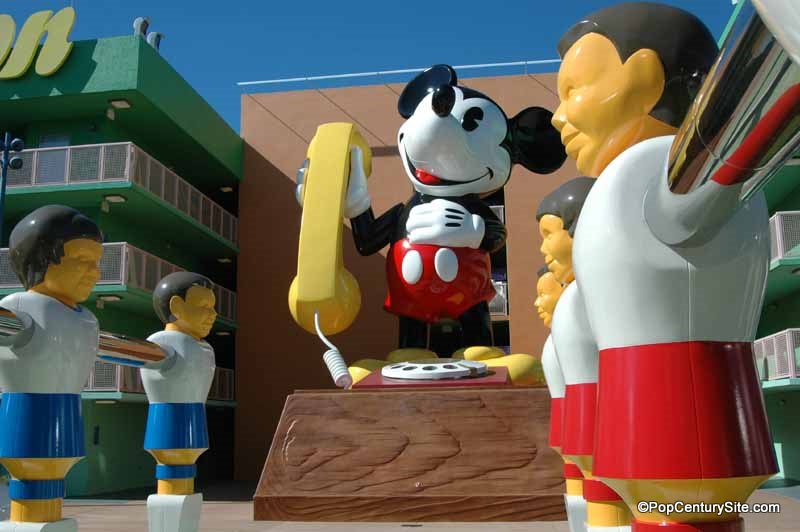 The buildings for the Legendary Years, the 1910's through the 1940's, were built along with the Classic Years' buildings, but they never finished (construction was halted due to the reduction in tourism after 9/11/2001). In 2010 it was announced that the Art of Animation Resort would be built there instead of the Legendary Years of the Pop Century Resort.
COMMUNITY AREAS
The main community areas shared by all resort guests are the Everything Pop Food Court and Gift Shop. This was Disney's first foray into combining the food court and gift shop in a resort, and it's a really fun place to be! With five specialty areas — Bakery, Grill, Market, Pizza, and Ethnic cuisine — the food court offers a little something for everyone.
The near-by grab-and-go grocery section offers take-away items to grab on your way out to the parks or back to your hotel room
And the Everything Pop gift shop sells gift items, candy, Walt Disney World merchandise, alcohol, and some of your favorite items from the "classic years!"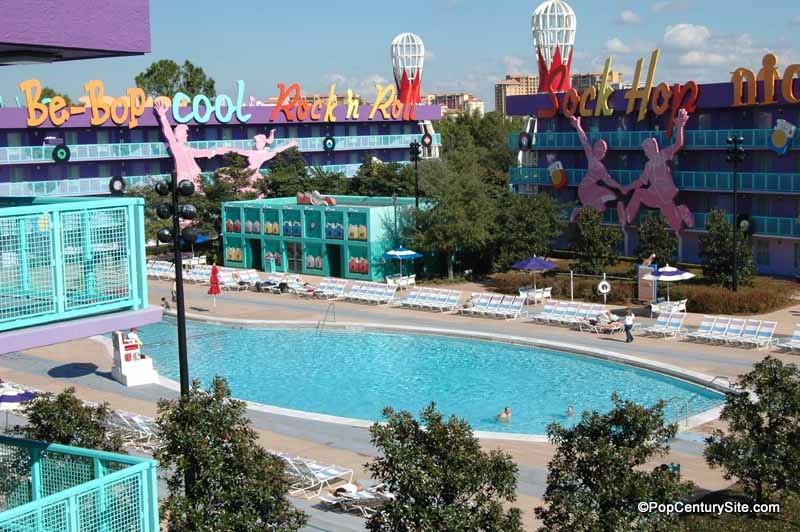 Stroll right outside to visit the Petals Pool Bar, located next to the 1960's Hippy Dippy Pool! Or head back to your room and put on your running shoes for a jog along the beautiful Hourglass Lake!
TRANSPORTATION
Disney Transportation to and from Pop Century Resort is by bus only, and you can find buses to all Disney theme parks, water parks, and Downtown Disney out in front of Classic Hall, the building housing Everything Pop and the lobby.
There's also plenty of parking around the resort for your own vehicle — parking is free for Pop Century guests.
ENJOY!
Whether you're headed to Pop Century for the first time or consider it your home away from home, we look forward to your questions, comments, photos, and stories about one of our favorite resorts!
If you have questions or suggestions, contact us at: webmaster [at] PopCenturySite [dot] com, or through our Contact Us Page.
And don't forget to find us over on Facebook!