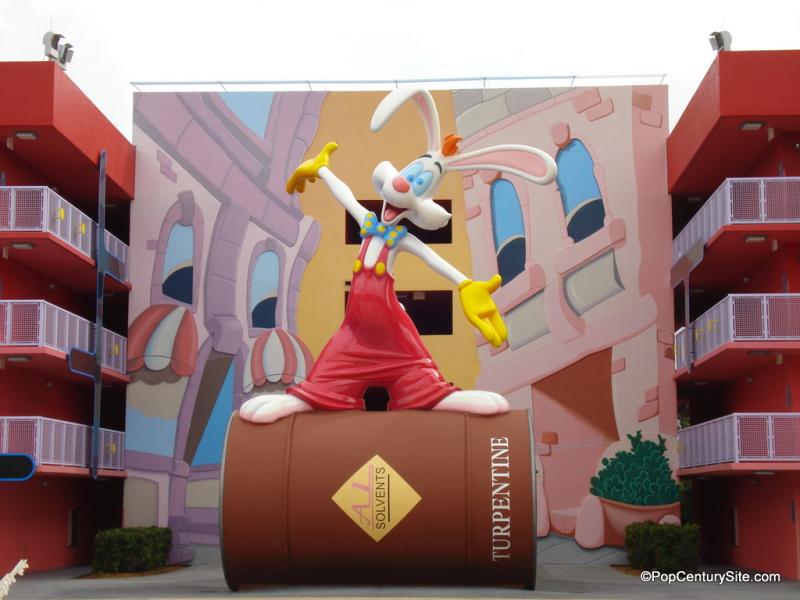 If you would really like to enjoy the perks of staying at a Walt Disney World Resort hotel, but feel that it won't fit into your budget, take a second look at the Pop Century Resort. Categorized as a "value" resort Pop Century offers superior Disney Service for folks who are on the go and think a clean place to rest, a pool, and some fast food sounds like heaven.
Pop Century is a motel style resort with basic amenities such as a food court, bar, arcade and gift shop. Pop Century has three pools for you to chose to cool off in. The Hippy Dippy pool area also offers some fun activities such as ping-pong, a hair wrap station and a Disney style temporary tattoo parlor. The theming is over the top with nostalgic references to some of the best eras of the 20th century.
Bare basics room are great for families with small children or gusts who enjoy spending the majority of their time in the parks. If you're just looking for a place you can lay your head at night but still have the perks of staying on property this is the place for you.
Pop Century Advantages:
Disney's Magical Express
DME's Complimentary No Hassle Baggage Service
Dedicated internal bus line (unlike the "All Star" Value Resorts who share one)
Guests may enjoy Extended Theme Park Hours
Purchases from the Parks, Resorts and Downtown Disney delivered to your hotel
Disney Resort Guests are never turned away at the Parks Because of a Crowd
Disney Dining Plan
In addition, staying on Disney property allows you more time to enjoy with your family and in the middle of all of the excitement. Pop Century is newer, than other value resorts and the public areas are more up-to-date. Most of all though the best thing about Pop Century is the value that it offers it's guests.
Fans report loving Pop because it's more "polished" than other values, the Hippy Dippy pool offers great entertainment value, Petals Pool bar is popular with adults and some rooms offer a glimpse of Illuminations over the tree line.
Next time you're planning your Walt Disney Vacation and want to experience a little more of the magic, consider a resort package at Disney's Pop Century. Once you stay on property, you may never consider anything else again.
Do you love Disney's Pop Century Resort? Join fellow fans over on our facebook page and follow us on our twitter feed @DisneyHotelsFan!