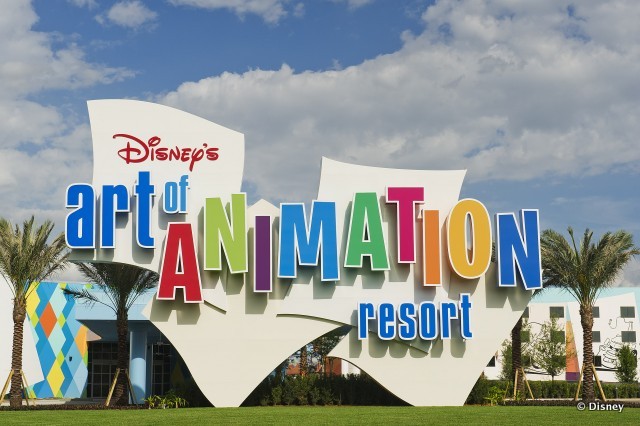 The newest of Walt Disney World's resort hotels opened its door in May of 2012 to great fanfare and excitement. Right across the Generation Gap Bridge from Pop Century, this sparkling new resort is the pinnacle of Disney's Value Line and aims to drop guests right into the action, becoming a part of their favorite animated films.
Art of Animation's imaginative amenities start the moment you check in with comfortable, personalized service. The first of Disney's hotels to incorporate the Next Gen technology from the start, you'll experience RFID technology right down to the keyless locks on guest room doors. This resort has been built with families in mind from top to bottom. The Landscape of Flavors Food Court is resort's meal option serving a wide variety of delicious dishes. Guests will be able to find foods from from hearty to healthier fare at 5 distinctive food shops serving breakfast, lunch and dinner daily.
The resort boasts three sparkling swimming pools, four playful courtyards, a video arcade, playgrounds and interactive water play areas and movies under the stars that the whole family will love. Fitness buffs will be able to enjoy a walk or jog around Disney's Art of Animation Resort on a 1.38-mile trail, so pick up a map at the Concierge in the Animation Hall building. Transportation to and from Disney's Art of Animation Resort is complimentary for Resort hotel Guests, and the resort s served by its own dedicated bus line.
Guest Rooms
The majority of Art of Animation's rooms will be colorful Family Suites that can accommodate up to 6 guests and feature 2 separate bathrooms, a master bedroom, and 3 separate sleeping areas within the living space! Family suites also include a generously sized dining or work table that easily transforms into a comfortable bed, and an adorable kitchenette. These fun suites will be themed in Finding Nemo, Cars, and Lion King style depending on the wing that you're staying in. If you don't need quiet that much space for your crew, the Little Mermaid Wing will be the spot for you to enjoy a traditional value room at this great new resort. Standard rooms accommodate 4 Guests on 2 double beds.
When will it all be completed?
Construction is rolling along nicely and all of the wings are now planned to open ahead of previously scheduled dates! Check out the official roll out time table below:
Finding Nemo Grand Opening: May 31st
Cars Wing: June 18th
Lion King Wing: August 10th
Little Mermaid Wing: September 15th
Are you looking for a little more information? Why not check out our Art of Animation Image Gallery!
{GALLERY_1}