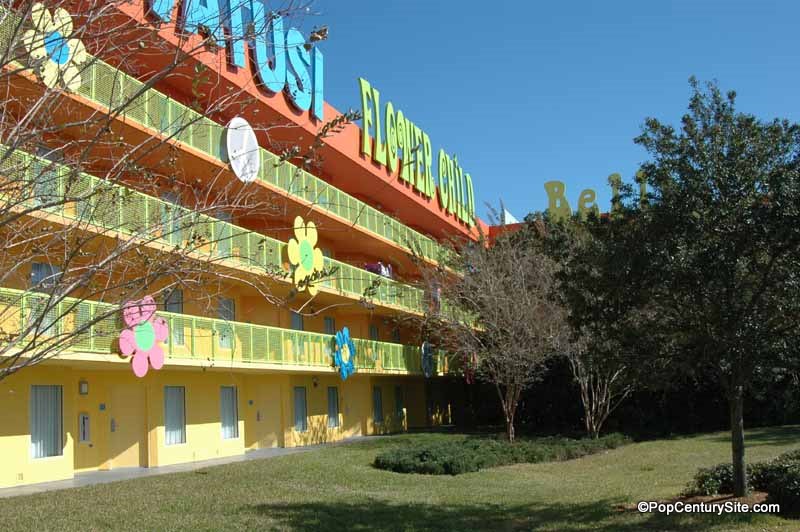 Pop Century Resort is huge — one of the largest on Walt Disney World property and even one of the largest in the United States. And due to its size, lot of folks have concerns about getting a good room location.
There are a couple way to go about this. One way is to request a Preferred Room at booking. This will cost a bit more per night, but ensures that you end up in the 50s, 60s and 70s rooms closest to Classic Hall and the Hippy Dippy Pool.
If you don't want to pay the extra cost for a preferred room, there are still plenty of standard rooms that are preferable. You can even request a room in the preferred section and may still luck out.
Here are a few ideas of areas and specific rooms to request:
Want some peace and quiet? Try the 50s section, with lake view, on the 4th floor — it's a quiet location that provides a view of Epcot's IllumiNations. Or try the 90s building, facing away from the computer pool. Keep in mind that "quiet" usually means "longer walk," too.
Want to be close to the buses and Classic Hall? Request the 70s Building B or the 80's Building B. Both are very close.
Want to be close to bowling pin pool? Request a room in the 50s overlooking it. How about the computer pool? Request an 80s or 90s room overlooking it.
Have you stayed in a room you really enjoyed at Pop Century? Share it with us below!
Do you love Disney's Pop Century Resort? Join fellow fans over on our facebook page and follow us on our twitter feed @DisneyHotelsFan!