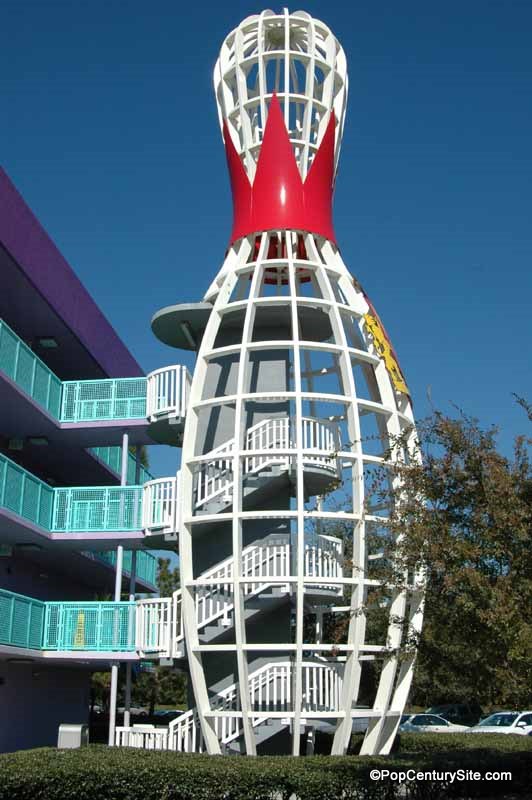 Disney's Pop Century Resort is not just a resort hotel but a giant celebration of 20th century pop culture. With 2,880-rooms on the property these are larger-than-life "time capsules" that showcase the popular toys, fads, dance crazes and catch phrases. It's one of the most fun of Disney's value resorts and we're pretty dern fond of it around here. Guests at Pop Century have the opportunity to live and play inside these unique time capsules during their Orlando Vacation and get to experience popular culture that defined the century.
One of the most iconic images you can find repeatedly around the resort is that of the Bowling Pin!
A regulation bowling pin is 15 inches tall. The bowling pin icons tower more than 65 feet high.
If you count the giant bowling pin icons, there are nine standing around the resort. Where's the tenth? It's actually the bowling pin pool in the courtyard!
Take a closer look at the pool deck around the bowling pin pool and you'll spot the triangular lane markings that are seen on bowling alleys everywhere.
Service and equipment buildings are cleverly disguised all over the resort. At the 1950s bowling pin pool, the laundry looks like a bowling shoe storage bin.
Speaking of Bowling, did you know that Disney is deep in the construction of it's very own Bowling Alley? Splitsville is coming to Downtown Disney just around the corner in Fall 2012! "Splitsville's 50,000 square feet, two-story location will be unlike traditional bowling alleys — with 30 lanes separated into several clusters to create a one-of-a-kind perspective immersed in hip and retro elements. The Downtown Disney location also will boast billiard tables, live entertainment, a dramatic balcony and ample outdoor seating."
It sounds like a bowling enthusiast's dream come true, and I can't think of a better place for them to stay for a weekend of bowling than Pop Century! The fun goes hand in hand. Have you ever noticed all of the pins at Pop Century? Are you looking forward to Splitsville this Fall? Leave me a comment and let me know!