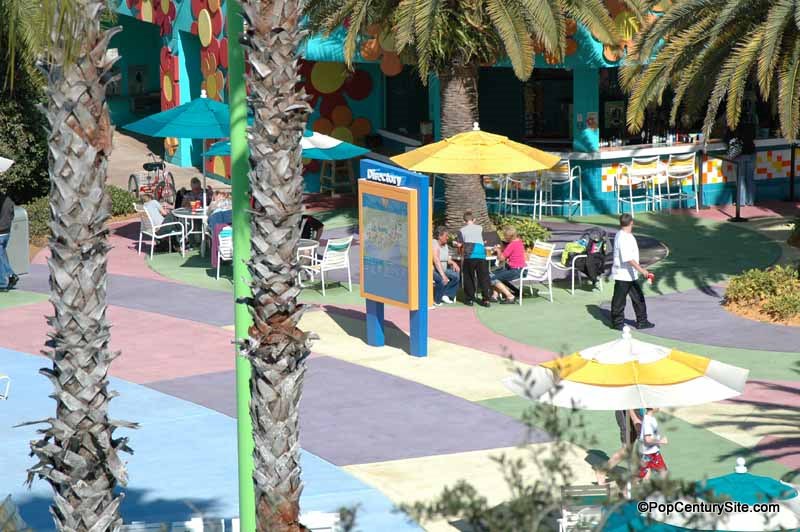 While you're trying to beat the heat by the pool on your Disney vacation, why not grab a cocktail at Pop Century's Petals Pool Bar. Located in the 1960's Hippy Dippy pool this great little poolside bar will help you quench your thirsty with a great variety of frozen, on-the-rocks, and non-alcoholic drinks!
Petals is the only bar at Pop Century so if you like to imbibe you should make note of it on your map. It opens at 12:00PM, but the closing time will vary.
While I'm a fan of the Pina CoLAVA in general, I think my favorite is probably the frozen Orange Dream to bring me back to my childhood. You can also give fun themed drinks on the rocks a try like the Lava Lamp or the Hula Hoop!
Smoothies, vitamin waters, and Monster energy drinks keep it interesting for the non-drinkers and little ones in your party. My daughter loves to stop at the hair wrap station and get her long locks decorated while sipping a smoothie.
A variety of beers by bottle or on tap is also available at Petals. As are standard Disney Sangria, Chardonnay Merlot and a Pinot Grigio. With a ping pong table near you may want to play your buddies for who will buy the next round! Giving it a go is just a matter of picking up the paddles snagging a ball for $.25
There is no food served at Petals, but you're welcome to run over to the food court and bring it poolside. Alcohol costs here range from a $4.75 draft beer to the $10.25 Mango Margarita. Non-alcoholic offerings are all under $5.
Petals Pool Bar is fun, friendly, and brightly colored, helping bring the 60's cocktail culture poolside with a swinging good time for all. Grab a drink, grab a lounge chair and soak up the sun.
What's your favorite way to cool off by the pool? Leave me a comment and let me know!
This post is part of the Disney Blog Carnival. Head over there to see more great Disney-related posts and articles.