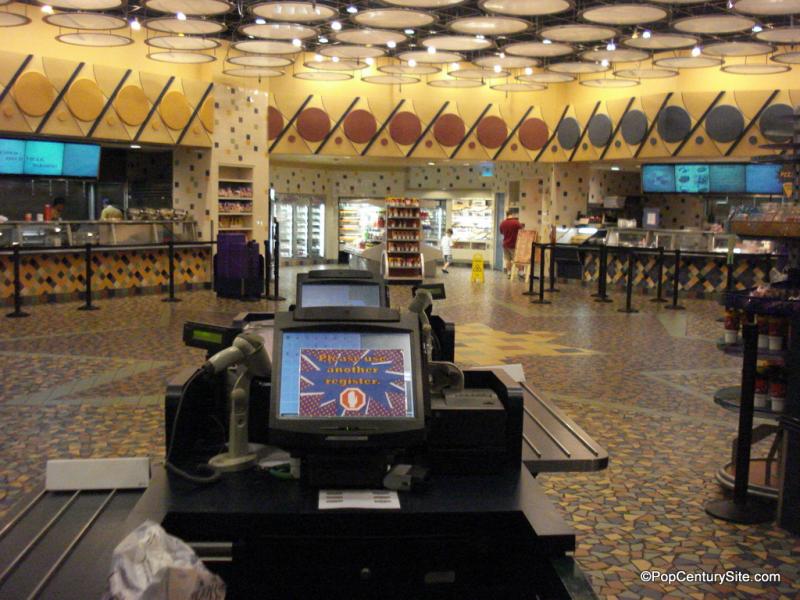 Everything Pop is one of my favorite food courts on Disney World property. It has truly fresh, delicious food; offers grab-and-go items when you're on the way to the parks; and even has toasters and microwaves for your convenience.
Eats
According to the Walt Disney World website, Everything Pop serves "waffles, eggs, oatmeal, pizza, pasta, sandwiches, flatbreads, salads, burgers, ice cream and bakery items." The food court is set up in a semi-circle and offers the following stations:
Grill: Features a bacon double cheeseburger, chicken nuggets, a veggie burger, chili cheese hot dog, cheesesteak wrap, and blackened fish sandwich.
Asian Cuisine: Features pan seared fish of the day, Shrimp or Vegetable lo mein, Nachos Supreme, Big Bowl chicken soup, and beef & broccoli.
Pizza and Pasta: Features individual pizzas, parmesan crusted chicken, penne alfredo, meatball sub, and veggie lasagna.
Flatbreads, Salads, and Sandwiches: Features Reuben flatbread, chicken mediterranean, chicken ceasar salad, turkey ciabatta, Asian chicken salad, tuna sandwich, etc.
Bakery and Cafe: Features freshly baked brownies and cookies. You can even get ice cream!
Quick-Service food area: Features grab-and-go items, including fruit, baked goods, salads, sandwiches, eggs, pita and hummus, cereal, ice cream, alcoholic and non-alcoholic drinks, desserts, etc.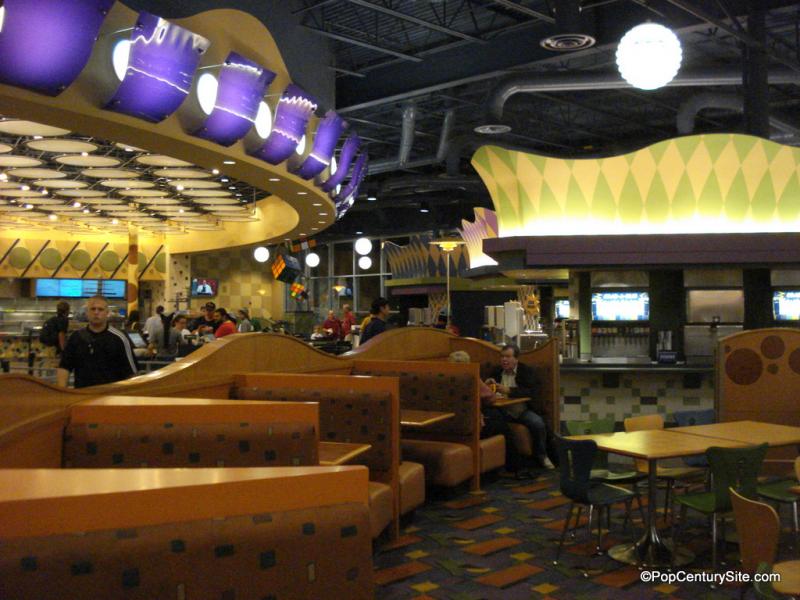 In addition, the Bakery/Cafe serves as a waffle station in the morning, serving the famous "Pop Century" belgian waffles! Check out our Blog Post about Breakfast at Everything Pop!
Other Info
Once you have your tray full of food, simply head to the check-out counters for payment, and then head out to the condiment/drinks area.
There, you'll find just about everything you'll need for dining, including toasters, microwaves, a refillable mug program with a "mug wash" right in the food court, and free condiments.
When you're finished eating, head over to the fun "vintage" video games in the food court!
Another fun fact is that Pop Century's food court is famous for several of its unique dining options! Head over to sample the 1960's-inspired tie-dye cheesecake, or the 1950's-inspired Mom's Night Out TV Dinner meal!
For more photos and information, check out our Dining Image Gallery!