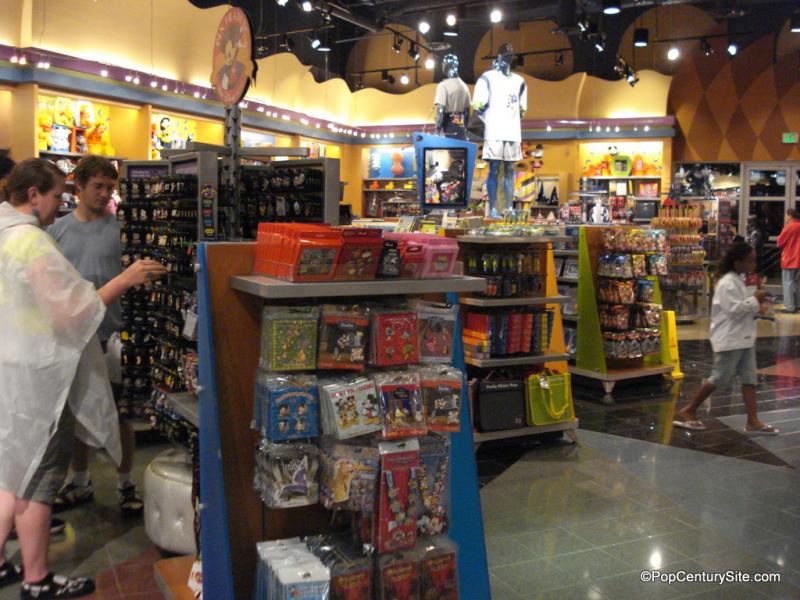 The Everything Pop gift shop is one of the largest, most comprehensive gift shops at a Disney World resort. Pop Century was the first to combine their dining and shopping areas, making Everything Pop your place for both fueling up and shopping til you drop.
Just about anything you could possibly need during a vacation can be found here — necessities like medication and Band-aids, camera gear and luggage can all be found here. There's even bathing suits in case you forgot to pack yours!
As far as clothing and souvenirs go, there's something to suit everyone's taste. Kids and adults alike will certainly find something they must have to wear — watches, Crocs, t-shirts, sweatshirts, pajamas, and Mickey ears can all be found here, just to name a few.
And don't forget the snacks and candy items! Many snack items are available that qualify for a snack credit on the Disney Dining Plan. Popcorn, lollipops, cookies, and chocolate are just a handful of food items available. For the adults, a case of liquor and cigars is also at the gift shop.
Everything Pop is a must-do for anyone staying at Pop Century. It has a great selection of souvenirs rivaling that of the largest stores in the theme parks.
Click here for more info on Everything Pop gift shop. Be sure to check out the photo gallery of things you can find there!
Do you love Disney's Pop Century Resort? Join fellow fans over on our facebook page and follow us on our twitter feed @DisneyHotelsFan!