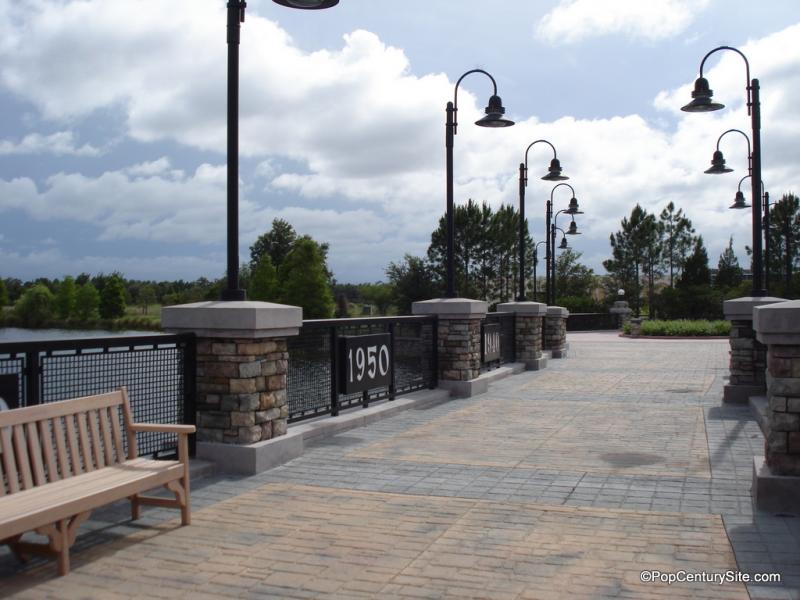 Being a Value Resort, Pop Century does not have a gym. But it doesn't mean that you can't get in some cardio and strength training while staying at the resort.
Remember that for the majority of the year, the Orlando area is very hot and humid. So consider getting your workout in during the early morning hours, when temperatures and car traffic levels are low.
Because there's no gym at Pop Century, consider packing some hand and/or ankle weights, and do some strength training on your own. You can do arm curls, walking lunges, forward arm raises and more. If you didn't pack any weights, you can still find a clean grassy area to do basic squats, lunges, crunches, push-ups and leg lifts.
Once you've gotten stretched out and gotten a few strengthening moves in, set off for a walk or jog around Pop Century Resort's jogging trail, a map of which is available at the front desk. The trail is either 1.1 or 1.38 miles long, depending on where you start and end your walk. Most of it is along Memory Lane, the path at the edge of the lake. When the Art of Animation Resort opens in 2012, you'll be able to make a longer, complete loop.
A longer 2-mile route can be made by combining Memory Lane and the perimeter of the parking area. Here's how: Start at the front entrance of the resort and run straight out the drive, turning left into the main parking area. (Stay alert and be careful to avoid traffic!) Run along the perimeter of the parking lot, joining up on the sidewalk that begins to the left. Run along Memory Lane to the turn for Generation Gap Bridge that will eventually lead to the Art of Animation Resort. Turn right and run the bridge round-trip. Then, turn right, completing the run along Memory Lane. At the end of Memory Lane, follow the outer perimeter road, back to the entry drive.
Do you love Disney's Pop Century Resort? Join fellow fans over on our facebook page and follow us on our twitter feed @DisneyHotelsFan!