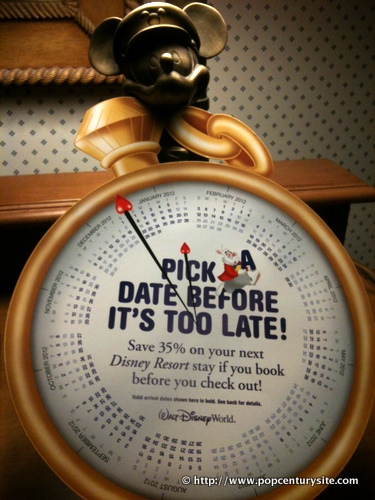 When planning a Walt Disney World vacation sometime Disney Discounts can be hard to come by, but one of my very favorite types of discount is the bounce back deal. Saving money on your next Disney vacation is never a bad thing, so be prepared for the possibility that a great offer could come your way at any time.
Bounceback deals are a form of discount offered directly by Disney to guests that are currently staying at one of the official Walt Disney World resorts. You find them in the form of flyer in your room, on the resort TV channel, or you might even get the offer via email during your stay. These offers are not always available and could show up or end at any time. It's sort of like finding a special vacation planning "easter egg".
Bouncebacks offer a monetary incentive to start planning and book your next vacation while still on the current one. They can vary in terms and conditions from season to season. Sometimes it will be a 20% discount on your value room rate or a n extra night added to your package, it could even include free dining. Generally these deals are very specific in what dates and hotels are available for you to bounceback too. It's a great way for Disney to fill rooms that are otherwise not getting booked as well as they would like them to.
Guest qualify, for these deals when the reservation for your next vacation is made before you check out, no exceptions. Bouncebacks must be booked by using the number provided on the flyer in your room. A deposit of $200 is needed to secure your deal when you call to book. I like to make sure I have some extra spending cash along with us, just in case Disney makes me an offer that I can't refuse.
If you can't find a bounceback offer brochure in your room, you can also try asking the front desk and/or Housekeeping for a flyer. Bouncebacks aren't always available, but it can never hurt to ask! Would you use this offer to make even more magic on your Walt Disney World vacation vacation?