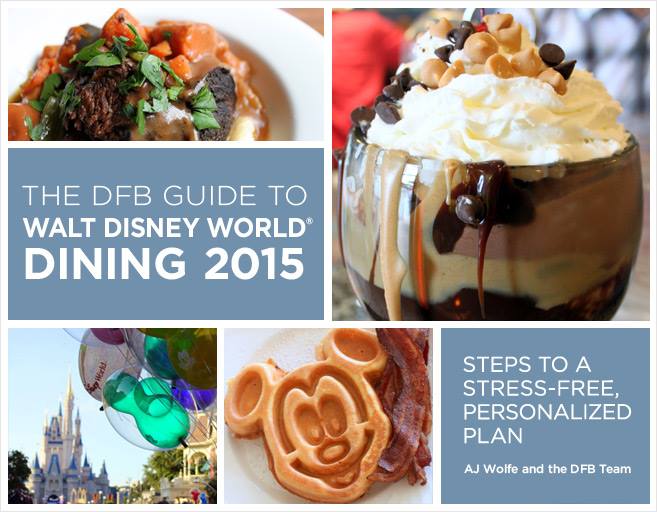 It's time to start planning your next Walt Disney World vacation with the help of the just published the DFB Guide to Walt Disney World Dining 2015′ e-book!
This all-new, totally updated guide is chock full of more than 490 pages of full-color photos, tips, tricks, and loads of information about – giving you everything you ever wanted to know about dining at Disney World!
The 2015 edition includes a "what's new at Walt Disney World" section, planning worksheets, a 5-step strategy for the Disney Dining Plan, and so much more! You'll also find an in-depth look at all the restaurants, bars, and kiosks at the theme parks and hotels with links to reviews on the Disney Food Blog!
And, since the book is an instantly downloadable PDF you can order it today and start enjoying it right away. The book can be downloaded to your computer and to your smartphone or tablet for easy access while you're touring Walt Disney World.
For a limited time you can also get the book for $4 off the cover price by using the code 2015 at checkout! Get your copy today and start planning your dining adventure.
Do you love Disney's Pop Century Resort? Subscribe to the monthly Disney Hotels Fan newsletter! Join fellow fans over on our Facebook page and follow us on our Twitter feed @DisneyHotelsFan!