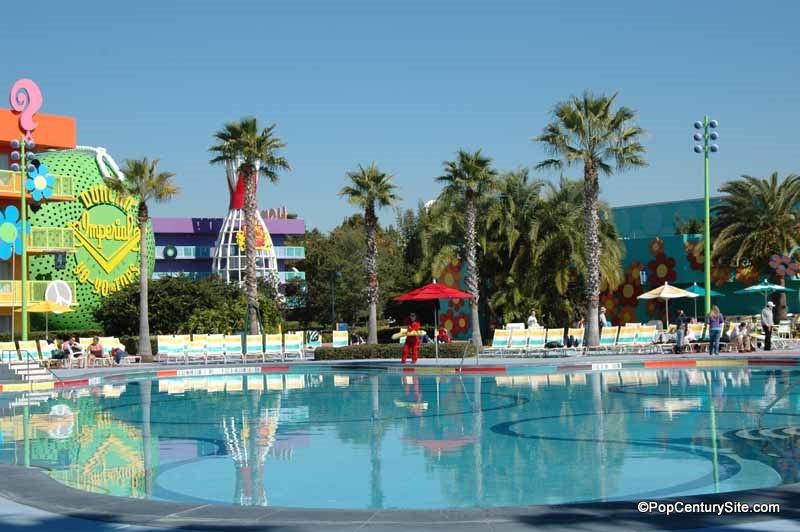 While we tend to spend more time at the quiet pools at Pop Century – especially if we're staying in the 1950s section – we do love the Hippy Dippy Pool. This main feature pool is such a fun spot to spend an afternoon!
The Hippy Dippy Pool is centrally located at Pop Century, right in the middle of the 1960s section of the hotel. When you walk out the back door of Classic Hall you'll immediately see the pool.
The pool itself is a flower-shaped pool – perfect for the hippy dippy 1960s, right? The pool is surrounded by the oversize icons of the hotel buildings which just lends to the fun theme. You'll also find water-squirting daisies at the pool to help keep you cool.
Grownups will love the close proximity of the Petals Pool Bar – it's a great place to grab a frozen cocktail to sip on as you relax by the pool.
Each afternoon the cast members will host a pool party complete with games and fun for the whole family. And at night you can catch a movie under the stars at the pool.
Even if your room is located in another section of the hotel near a quiet pool it's always fun to stop by the Hippy Dippy pool for a short time. You'll find it is less crowded in the early morning and later in the evening. Mid-afternoon is the highest crowd level at the pool.
What do you love about the Hippy Dippy Pool? Let us know in the comments.
Do you love Disney's Pop Century Resort? Subscribe to the monthly Disney Hotels Fan newsletter! Join fellow fans over on our Facebook page and follow us on our Twitter feed @DisneyHotelsFan!