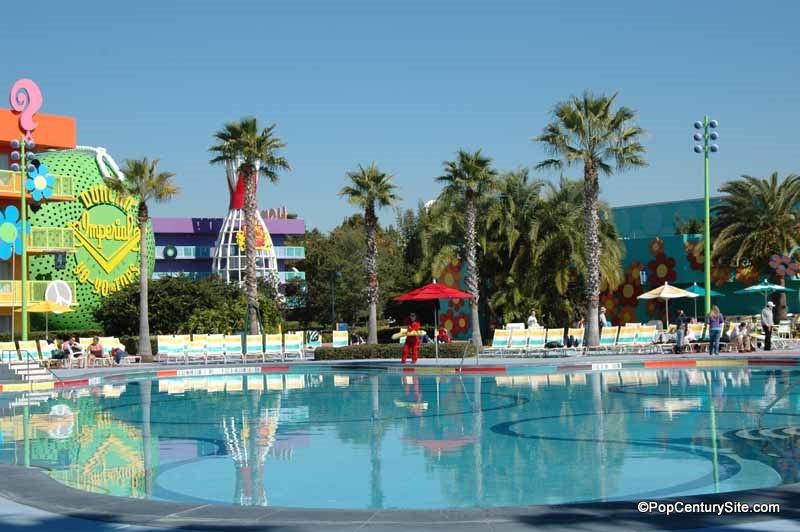 After a long, cold winter and spring it's finally summertime and that means it's going to be hot hot HOT at the Walt Disney World Resort.
Of course, this is being touted as the "coolest summer ever" at Disney World, so we thought it would be a good idea to talk about how to keep cool at Pop Century.
We all know Pop Century is home to three incredible pools – the Hippy Dippy Pool, the Bowling Pin Pool, and the Computer Pool.
The Hippy Dippy Pool is located in the 1960s section of the resort and is considered the "main feature pool." This flower-shaped pool is very popular with guests and can be crowded at peak visiting times throughout the year.
And when it gets crowded or when you're just looking for a more relaxed swimming experience we suggest headed to the Bowling Pin Pool in the 1950s section or the Computer Pool near the 1980s and 1990s sections. Both of these "quiet" pools feature fun themeing, lounge chairs, and even a few umbrella tables if you're looking for shade.
If you're looking to keep cool indoors we suggest stopping by the Fast Forward Arcade – it's a great place to spend a little time working on your video game skills. And the kids will love it. Just remember that Disney arcades operate on the Arcade Card system so you'll need to purchase points to play.
One of our favorite places to chill out is at Everything Pop. Even if it isn't officially "mealtime" you can still stop by and grab a snack like Tie Dye Cheesecake or a cupcake and an ice cold milk. Sweet treats and air conditioning are a win-win in our book. And, if you stop by during the "off" hours (in between meals) you'll find a not-so-crowded food court.
Another great place for the grownups to cool down is at the Petals Pool Bar located near the Hippy Dippy Pool. Grab a Pina CoLava or an Orange Dream and find a spot in the shade. Ah, paradise!
What's your favorite way to keep cool at Pop Century? Let us know in the comments!
Do you love Disney's Pop Century Resort? Subscribe to the monthly Disney Hotels Fan newsletter! Join fellow fans over on our Facebook page and follow us on our Twitter feed @DisneyHotelsFan!