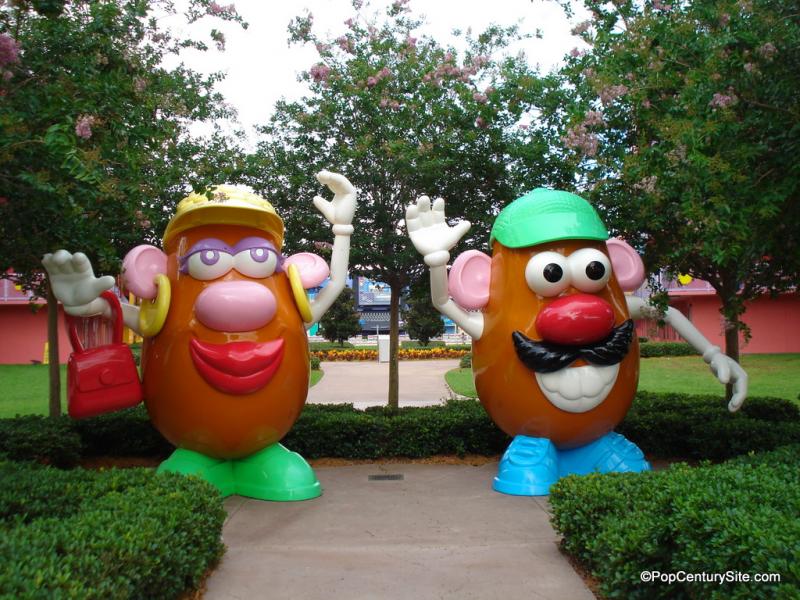 Pop Century is one of my favorite resorts at Walt Disney World for so many reasons. One of the top reasons is because there's so much for kids to do at the hotel.
The hotel is home to three incredible pools – the Hippy Dippy Pool, the Bowling Pin Pool (in the 1950s section), and the Computer Pool (near the 1980s and 1990s section). There's no shortage of available swim space at Pop Century and guests can visit all of the pools!
While none of Pop Century's pools have water slides, the kids will still have a blast. The cast members host a pool party each afternoon at the Hippy Dippy Pool and at night you can enjoy a Movie Under the Stars. There's also a nice splash area for the kids near the Hippy Dippy Pool.
If it isn't a pool day – or the kids are totally waterlogged from too much swimming – it's always fun to head into Classic Hall and check out the Fast Forward Arcade.
The Arcade runs on the Arcade Card System so you'll need to purchase a card to play. After battling the video games it's always fun to stop by Everything Pop for a cupcake or tie dye cheesecake.
And one of my favorite things to do at Pop Century is walking around the grounds taking photos of the oversize icons. Give the kids a camera and let them document their vacation from their viewpoint.
Of course if your kids are morning folk, make sure you visit the lobby area in Classic Hall at 8 a.m. to watch cast members do "The Twist." They'll also do "The Hustle" each night at 6 p.m. – which is perfect for just before dinner.
What's your family's favorite way to keep the kids entertained at Pop Century? Let us know in the comments.
Do you love Disney's Pop Century Resort? Subscribe to the monthly Disney Hotels Fan newsletter! Join fellow fans over on our Facebook page and follow us on our Twitter feed @DisneyHotelsFan!