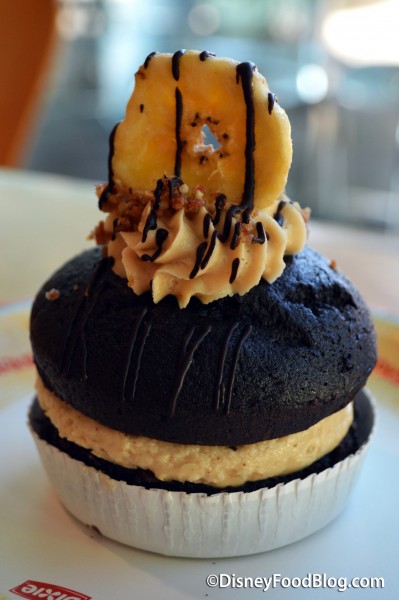 If you were a fan of the King Cupcake from Everything Pop at Disney's Pop Century … we have some bad news. The King Cupcake has left the building.
But wait! Don't despair. A new dessert has taken the crown. Introducing the King Whoopie Pie!
The new sweet treat takes the concept of the King Cupcake – chocolate, peanut butter, banana, and bacon! – and recreates it in Whoopie Pie form.
The King Whoopie Pie features dark chocolate cake with peanut butter filling between the two layers. The icing on top is also peanut butter, so this new dessert's only banana flavor comes from the dried banana chip on top. But never fear, there is still bacon! The peanut butter icing on top is sprinkled with crumbled bacon.
Our friends at the Disney Food Blog declare that while the King Whoopie Pie is good, it doesn't completely match up to the awesomeness that was the King Cupcake.
Long live the King (Cupcake).
Have you tried the new King Whoopie Pie? Leave us a comment and let us know what you thought.
Thanks to the Disney Food Blog for use of their photo!
Do you love Disney's Pop Century Resort? Subscribe to the monthly Disney Hotels Fan newsletter! Join fellow fans over on our Facebook page and follow us on our Twitter feed @DisneyHotelsFan!