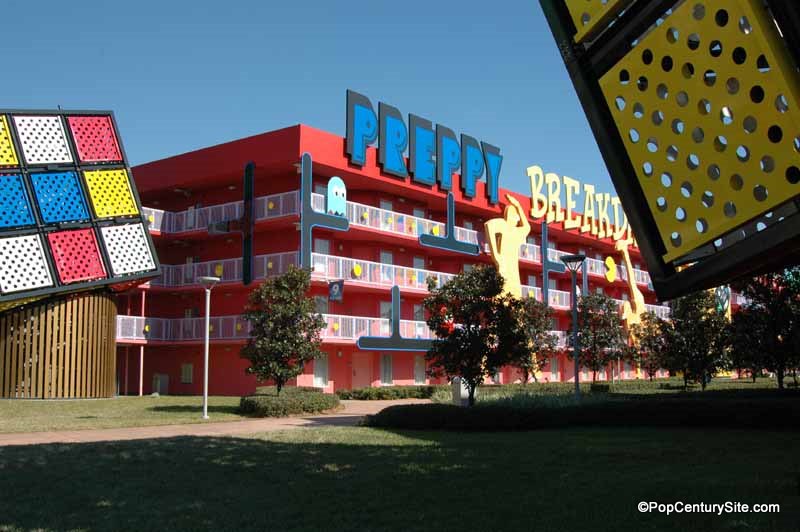 One of the best things about Disney's Pop Century Resort is the unique themeing. Whether you're a fan of the 1980s or love the groovy-ness of the 1960s, there's bound to be something for everyone when you're at Pop Century.
And as much as we love the oversize Rubik's Cubes, Lady and the Tramp, and Mr. and Mrs. Potato Head, we wondered if location wasn't somehow more important to guests than the building's theme.
So we did a very unscientific poll on our Facebook page and asked our fans "What section at Pop Century is your favorite, and why?"
We had quite a few responses and the most popular section ("winning" by three votes) is the 1960s. Fans said the proximity of the pools and Classic Hall to the 60s made it their top choice.
Second in popularity was the 1950s section. One fan named Melanie said her favorite building was the Tramp building with a room on the fourth floor facing the lake because she could stand outside her room and watch the fireworks from Epcot's IllumiNations: Reflections of Earth.
We think that sounds rather perfect!
Another fan said they preferred the 1950s buildings and liked to be in a room that faced the lake because it was quitter than the other rooms.
Other fans said they preferred the 1980s for their proximity to the buses and one fan said her son loved the 1990s because of the quiet computer pool.
More than 30 fans "voted" on their favorite sections and 11 chose the 1960s, eight picked the 1950s, six said the 1970s were cool, four said the 1980s were awesome, and only two fans picked the 1990s.
It's probably safe to say that the location of your room will make a difference if you have to walk further to get to the buses or to Classic Hall, or if the noise from the pools is too much. As always, research is key when planning a stay at a Disney resort. So whether you're looking for a quiet home away from home or the shortest walk to get that Pop Waffle in the morning, location is key!
Tell us – what is your favorite section at Pop Century and why?
Do you love Disney's Pop Century Resort? Join fellow fans over on our Facebook page and follow us on our twitter feed @DisneyHotelsFan!