Spending time at the pool is a fun part of a Disney vacation. A dip in the pool after a long day at the park is a soothing and refreshing way to end the night. However, it's important to remember that swimming comes with inherent risk, and it only takes a few short minutes for a drowning to occur. We were saddened last month to learn of the tragic drowning of teenager, Anthony Johnson, at the Pop Century swimming pool. Our heart and prayers go out to the friends and family of this young man.
In his honor we want to share with you a few swimming safety tips to help keep your pool time magical.
The hours that Pop Century Lifeguards are on duty vary by season, but are generally between 10am and 8pm. Current hours for your vacation period can be found posted every day on the Pool Rules signs at each resort pool. Outside of these hours guests swim at their own risk.
Never Swim Alone.
Follow the rules – Pool rules at clearly posted on signs at each of the hotel's pools.
Listen to the Lifeguards – They are well trained and on duty for the safety of all guests. Do what they say.
No food, drink, glass containers or animals are allowed in the pool or on the pool deck.
No Running – Pool decks can be dangerous places when pavements become slick or crowded. Walk.
No Diving – Disney Pools are shallow, and do not have adequate depth room for safe diving.
Locate the emergency equipment – When you arrive in the pool area, especially after hours, locate safety equipment (such as flotation ring) to use in case of emergency. Emergency phones can be found on the Lifeguard stations.
Insist on life jackets for children who can't swim, Disney has complimentary life jackets available for guests to use.
Keep an eye on your kids. Even strong swimmers need supervision, and no lifeguard can replace the eyes of a vigilant parent.
If you need to leave the pool area take your kids with you.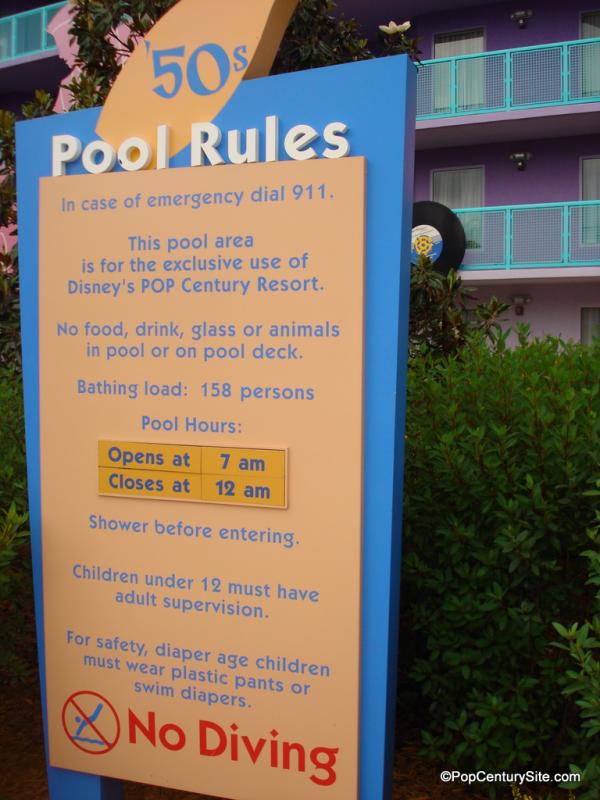 **Hours Subject to Change**
It's a good idea to discuss pool rules with your kids before you head off on vacation. Once you arrive, the excitement of a swim can sometimes make little ears not work as well. Drowning is the second most common cause of death from injuries among kids under the age of 14; just because your family is on vacation, does not mean that there isn't a risk.
Be vigilant with pool safety, even when lifeguards are on duty. We hope you have a splash-tastic and safe swim.