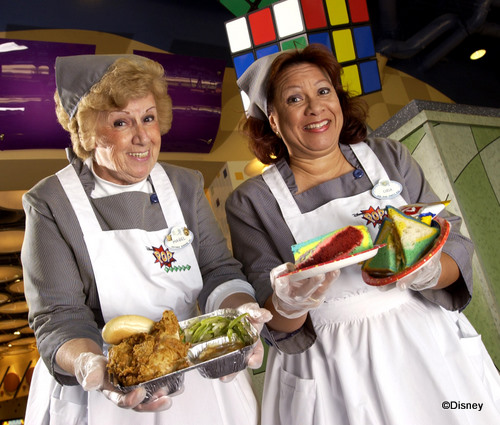 The Everything Pop Food Court isn't just a spot for guests to go to grab a bite to eat, every Saturday, Sunday and Monday they're serving up a Fried Chicken Dinner designed to celebrate "Mom's Night Out". Served up from 4 -10 p.m this "TV Dinner" style meal served in a tin tray that celebrating the American comfort food classics.
Pop Century's buttermilk fried chicken is a fan favorite meal for a good reason. We've got the recipe to share with all the Dads out there so that even once your at home you can give Mom a night off and feel just like you're on a Disney vacation.
Pop Century Resort: Buttermilk Fried Chicken
*serves 4
Ingredients:
8 raw chicken pieces (wings, legs & thighs)
3 cups buttermilk
4 eggs, beaten
3 cups all-purpose flour
4 cups Vegetable Shortening
Kosher salt
ground black pepper
Directions:
Place chicken pieces in a shallow container, skin side down. Pour buttermilk over the chicken. Cover with plastic wrap and marinate in the refrigerator overnight.
Preheat oven to 375 degrees. Remove the chicken from the buttermilk and season both sides with salt and pepper.
Place the beaten eggs and flour into two separate shallow dishes. Add 1 tablespoon salt & 1 tablespoon pepper to the flour. Mix well.
Melt the Shortening in a deep frying pan so that it is at least 2-inches deep. Heat it until the oil begins to lightly smoke. Dredge the chicken pieces first in the flour, then the egg, and then the flour again. Place the chicken pieces into the hot oil and fry for 2-3 minutes on each side, until the skin is golden brown. Transfer the pieces to a foil-lined baking sheet and bake in oven for 40-45 minutes, or until cooked through to the bone.