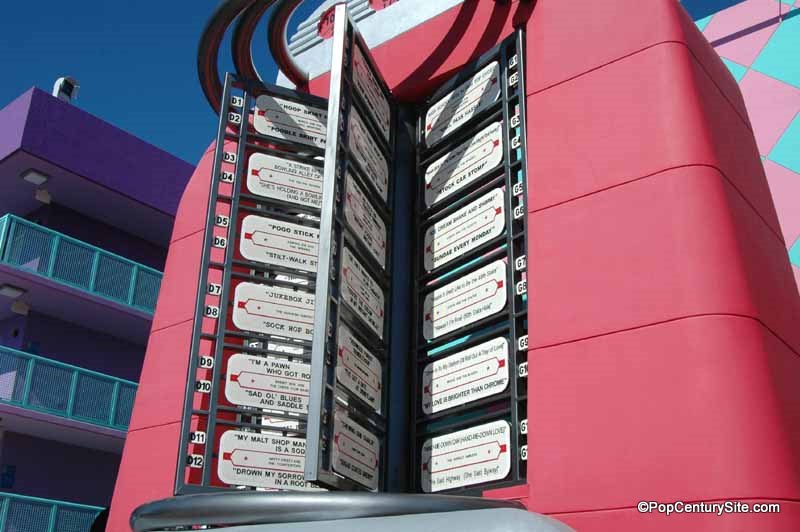 Music is all around at Walt Disney World, and we continue to explore the resort music that inspires us all to believe in the dream that's been created around us. At Pop Century it takes us on a journey through out the 20th Century. Some of our favorite songs from over the years greet us and get us moving, the architects that designed the buildings even found music so important that one of the icons of Pop Century is a giant juke box.
Did you know that in Classic Hall you can also gather twice a day to dance it all out! Every morning at 8:00 A.M. "The Twist" plays and cast members hit the floor to twist it out and start the day right. In the evening at 6:00 P.M it's time to do "The Hustle" so grab your dancing shoes and be sure to join in! Pop Century celebrates the music we all grew up with, from top radio hits, to TV show themes and commercial jingles. The sounds of the resort will bring back memories for all, and create new ones for the next generation.
Unfortunately, there is no such thing as a Pop Century music soundtrack CD. If there was, it would have to be more than just a CD, because the Classic Hall Loop alone has over 8 hours of music! CDs from Pop would have to be an entire boxed set of musical memories.
ParkTunes.com also offers a very abbreviated iMix for the Classic Hall Pop Century Loop, so if you're looking just for a taste of the music, download some of the fun below!
While researching to bring these gret atunes to you we discovered MagicMusic.Net. The industrious fans that inhabit the MagicMusic.Net forums are just nuts for finding the tunes that you hear during your stay at the Pop Century Resort. It's their passion and they've compiled mix lists for all over Walt Disney World.
Here's Just a peek at what's in store for your listening pleasure on the "Magic In Motion" Pop Century Bus Route music loop. This list created by "ToFu For Brains" at MagicMusic.Net has over 50 songs that you hear while on the bus! You can find the full list in this forum thread, but these are just a few of our favorites!
During Halloween time you can expect to hear some other great songs added into the mix as well with favorites like: