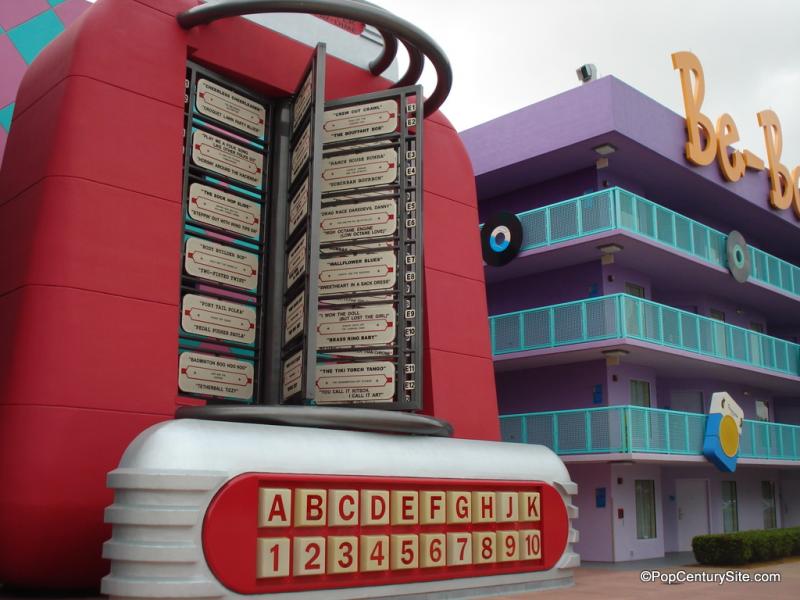 There are many fun reasons to choose Disney's Pop Century Resort for your next Orlando Vacation, one of the most enjoyable, yet overlooked may be the fantastic selection of ambient music. With such a huge selection of choices to showcase the century it's rumored that the full Pop Century loop lasts for more than eight full hours.
Did you know that you can start you day off every morning twisting in Classic Hall? Each morning at 8:00 A.M. "The Twist" plays and everyone is encouraged to join in the fun! Cast members hit the floor to twist it out and start the day right. It's just one of the connections that this fun resort has with the music throughout America's History. The classic years play on and at 6:00 P.M it's time to do "The Hustle" so grab your dancing shoes and be sure to join in!
We've set up a page with some of our favorite music selections from the Pop Century Loop and linked it with locations where you can download your favorites on either Amazon or iTunes. Not only have we picked selections from Classic Hall, but some of our favorite from the bus loop and the Halloween additions as well! Be sure to stop by and check out The Music of Disney's Pop Century Resort!
Do you have a favorite song that plays at Pop Century? Do you always make sure your head down to start your day off with the Twist? Leave a comment and let us know!