Here are some tips and not-to-be-missed parts of Pop Century from our Pop expert facebook fans!
First off, don't miss the pools! The Petals Pool Bar was also mentioned, but one facebooker said, "Be prepared to pay for a $10 margarita." And for kids, don't miss Goofy's Pop Jet Play Area! And you can even play ping-pong and Twister near the Hippy Dippy pool.
One commenter said to go to the third floor of a 50s building and look down at the bowling pin pool. It is a giant bowling lane! Can you find the 10 pins?
Next – the Everything Pop Food Court! Tie-Dye Cheesecake was mentioned several times as a not-to-be-missed dessert. Pop waffles, beef & broccoli, cappuccinos and the resort refillable mugs were also mentioned, and one commenter said they like that "fruit & booze are served out of the same fridge!" So do we! (;
Facebookers also said that they love when the food court staff does the Hustle at 6 p.m., and kids also get to Hula Hoop at night!
Another tip: Take time to check out the resort's theming! One commenter said they "love walking around and taking pictures of all the icons. Mr. & Mrs. Potato Head are my fave." They also recommend reading all the signs around the resort.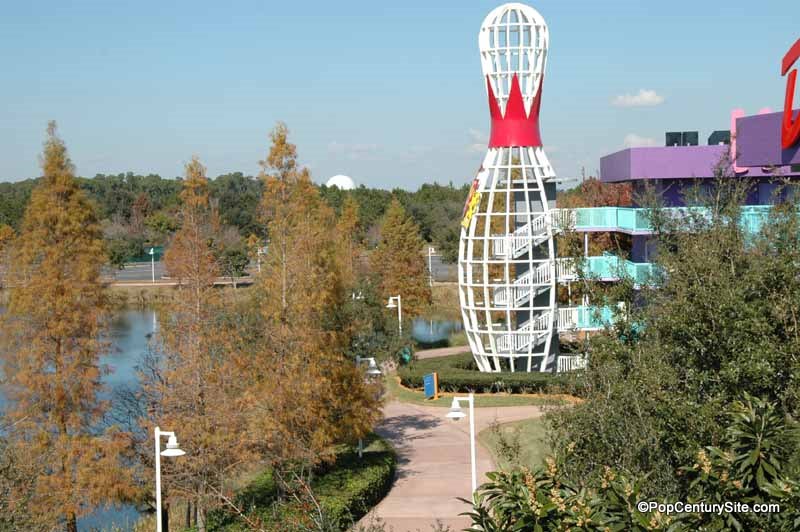 Another tip – you can see Epcot's IllumiNations fireworks from part of the resort. Try the back of the 50s building by the jukebox and closest to the lake – you should be able to see Spaceship Earth and IllumiNations from there!
A few final tips: Pop veterans say the bus service to and from Pop is great! And be sure to request a newly remodeled room. You will enjoy a new flat-screen TV, new carpet and new decorations.
Do you love Disney's Pop Century Resort? Join fellow fans over on our facebook page and follow us on our twitter feed @DisneyHotelsFan!