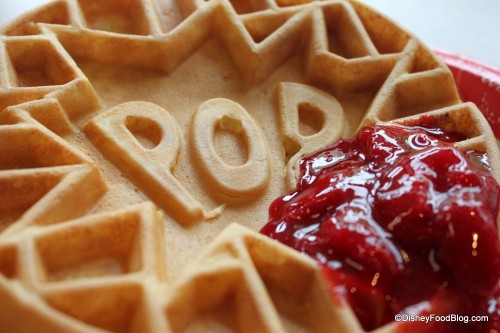 Our friends over at the Disney Food Blog just wrote a great post with some exciting news for Pop Century Fans. The Everything Pop Quick Service Food Court has revamped it's menu adding some tasty new options to delight your tastebuds. Breakfast, Lunch, Dinner and even the kids menu have all received tweaks! Some fan favorite remain, some didn't fare so well. The famous Pop Waffles remain, but we're still unsure about the TV dinners.
Everything Pop offers 7 food stations including: grab 'n' go items, grilled fare, pizza, pasta, sandwiches, healthy choices and ethnic cuisine. Specialties of the house include oven-fired flatbreads, lo mein, pan-seared fish and house-made desserts. Exciting new dinner entrees include:
"Rotisserie Chicken, Roasted Pork Loin, Roasted Vegetables, Sesame Chicken Nuggets, Coconut Curry Shrimp, Pot Roast, Beef Brisket, Beef Stroganoff, Margherita Flatbread, Roasted Vegetable Cavatappi, Chicken Cavatappi, Mussels, Shrimp and Cheesy Grits, Pork Shank, Chicken & Dumplings, Crab Quesadilla, Meaty Stromboli, Sweet Italian Sausage Sub, Beer Battered Fish & Chips, and Pasta with meatballs or sausage."
Sadly, like many menus across Walt Disney World lately prices also went up to facilitate the fresh new flavors. Be sure to double check the menus and make adjustments in your budget accordingly. You can check out the new menu for yourself on the My Disney Experience Website or phone App.
Have you experienced the new menu at Pop yet? Do you know if Mom's Fried Chicken has survived? If so we'd love to hear from you! Leave a comment below and tell us what you thought of the changes.