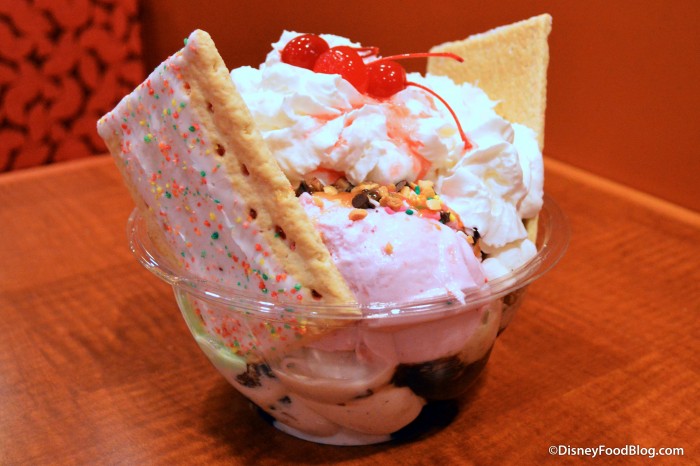 We love eating at Everything Pop – there's always some fun and interesting on the menu!
And recently our friends at the Disney Food Blog had a chance to try out a few new burger options in addition to the Everything Pop Sundae.
The Burger Station at Everything Pop is home to some great gourmet burgers in addition to chicken nuggets, Sloppy Joes, and even Fish and Chips. There are six specialty burgers on the menu: Benedict Burger, the Oscar Burger, the Southwesterner Burger, the Italian Burger, the Uptown Burger and the Picnic Burger.
The Benedict Burger features Canadian bacon, a fried egg, AND Hollandaise sauce while the Oscar Burger it topped with jumbo lump crabmeat, brie cheese, and bernaise sauce with a few stalks of delicious asparagus on top! The Picnic Burger is one we just have to try – it's topped with a grilled hot dog, cheddar cheese, sauerkraut, onions, pickles, ketchup, mustard, lettuce and vine-ripe tomatoes. That's right – the entire picnic is on that bun!
If you save room for dessert you'll want to stop by the ice cream counter and order the Everything Pop Sundae. This giant frozen treat is made with six scoops of ice cream and many toppings including a full banana, M&Ms, gummy worms, nuts, hot fudge, brownie bites, rainbow sprinkles, chocolate chips, caramel sauce, Heath bar, marshmallows, whipped cream, cherries, and two Strawberry PopTarts.
Now that's a sundae.
What is your favorite item to order at Everything Pop? We'd love to hear if you've had the Everything Pop Sundae too!
Do you love Disney's Pop Century Resort? Subscribe to the monthly Disney Hotels Fan newsletter! Join fellow fans over on our Facebook page and follow us on our Twitter feed @DisneyHotelsFan!