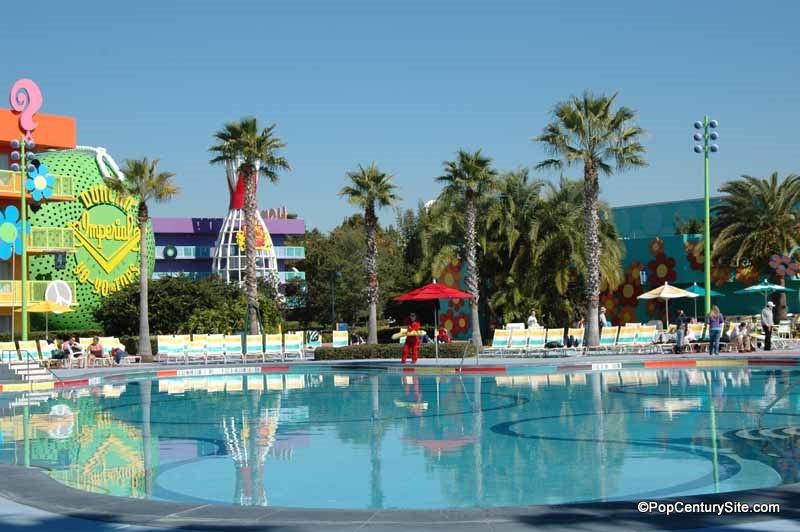 With three huge pools to serve this one resort, you're sure to find someplace to set up camp! Each pool is themed to the decade where it resides, so choose your favorite, put on your floaties, and jump in.
Bowling Pin Pool: In the 1950's section of the resort is a bowling-pin shaped pool surrounded by bowling alley themeing. If you look at the ground, you'll see concrete created to mimic bowling lanes, and at the end of the pool are racks of bowling balls! The guest laundry is where you go to grab your bowling shoes…but these shoes might be a bit too big for you!
Hippy Dippy Pool: The main pool of the resort is the 1960's section Hippy Dippy Pool. This free-form, flower-shaped pool is surrounded by bright colors, the Petals Pool Bar, Classic Hall, and a bunch of water-squirting daisies! There's a wading pool, ping pong table, and hair wrap station nearby.
Computer Pool: In the 1990's section you'll find the Computer Pool! It's themed with a four-story laptop computer showing the latest Disney news (from the year when the resort opened, of course), and a massive soft computer keyboard is nearby for playing. Don't forget to check out the floppy disks leaning up against the hard drive — that's the guest laundry!
Kids' Water Play Area: Surf's Up with Goofy at the kids' water play area near Classic Hall. Head over there with your little one for some carefree fun.
Check out our Pools and Activities Image Gallery below for more photos!