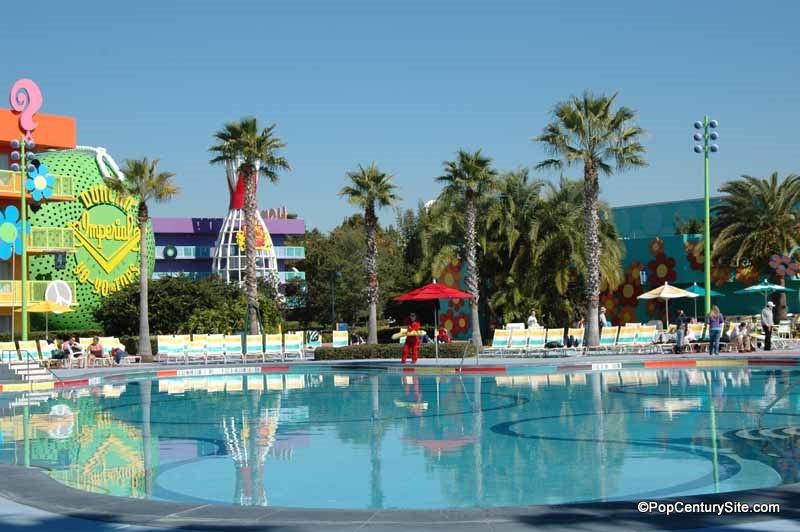 If there's one thing that sets Disney resorts apart from other hotels in the Orlando area, it's the themed swimming pools. There are so many amazing pools on Disney property that it's hard to pick one favorite.
Lucky for us, Pop Century has three great pools for guests to enjoy year-round. With that many choices it might be hard to pick a favorite, but we're going to try.
The pools at Pop Century are diverse in their designs, as each are themed to a particular decade.
The "main" pool is the Hippy Dippy Pool located in the 1960s section of the resort. This flower-shaped pool is very popular with guests and can be crowded at peak visiting times throughout the year. But we still love the shape of the pool and the brightly colored surroundings. And for the grown ups there's the Petals Pool Bar where you can grab an icy cold "adult beverage" as you soak up the sun!
Next up is the Bowling Pin Pool, which as the name implies is shaped like a giant bowling pin. This pool is located in the 1950s section of the resort and it's surrounded by bowling alley themes. Even the pavement around the pool is themed to look like the lanes in a bowling alley! This pool tends to be a bit quieter than the Hippy Dippy Pool simply because it isn't in the center of everything.
Our favorite pool just might be the Computer Pool located back in the 1990s section of the resort. This pool is tucked away from the hustle and bustle of the resort as the 1990s section is a bit off the beaten path.
This pool is themed as a four-story laptop computer, complete with a soft, elevated keyboard nearby for playing. (Watch your step on the keyboard…it's easy to misstep and take a less-than-graceful fall. Trust us on this!)
No matter which pool you choose, you're sure to have a great time cooling down at Pop Century! And don't forget the little ones – there's a kid's water play area near Classic Hall!
Which Pop Century pool is your favorite? Leave us a comment and let us know!
Check out our Pools and Activities Image Gallery for more photos!
Do you love Disney's Pop Century Resort? Join fellow fans over on our Facebook page and follow us on our Twitter feed @DisneyHotelsFan!