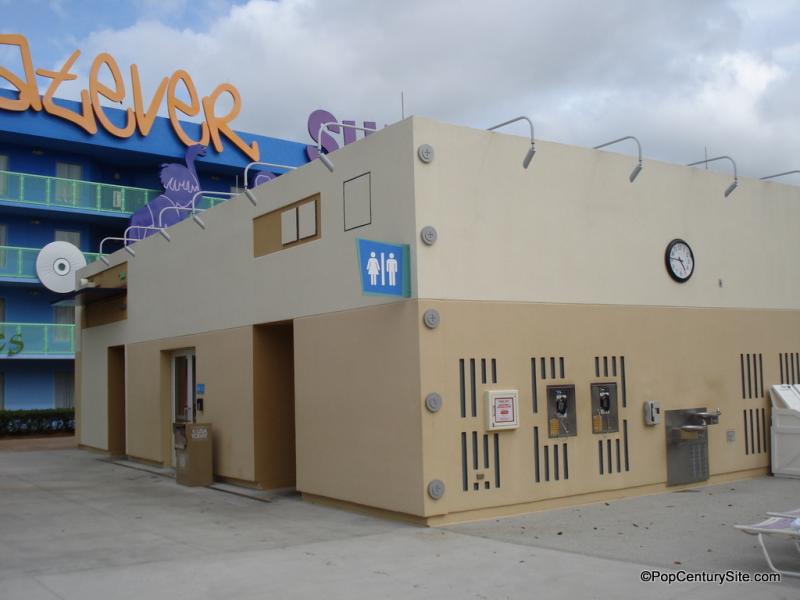 While the icons around Pop Century are fantastic to look at, some of my personal favorite pieces of themeing around the resort are the guest laundry facilities! I know, sounds crazy, right? But Disney has gone out of its way to make the three laundry room buildings fit beautifully into the decor where they're located.
80s/90s Laundry Room at the Computer Pool
Located between the 80s and 90s sections of the resort at the Computer pool, this laundry room might just look like a big gray building upon first inspection. But if you really look hard, you'll see that it's an "old-fashioned" (i.e. from the late 80s) floppy disk drive!
Complete with an on/off button (and corresponding red light), that memorable beige/brown color, screws on the sides holding it together, and an actual "floppy" still stuck into the cartridge slot, all of your great (and bad!) memories of your floppy disk days will come streaming back to you!
Even better, there's a larger-than-life stack of floppy disks right next to the laundry room. Some of them are even labeled with what's on the disks, like "games" for instance!
60s Laundry Room at the Hippie Dippy Pool
This laundry room is as groovy as it gets, man! Located next to Petals Pool Bar between the main lobby and the pool itself, this laundry room services the 60s and 70s buildings at Pop Century Resort.
While the outside of the building is themed with flowers, what's really fun are the restrooms connected to the laundry room. Guys — you use the rest room depicting the little man wearing bellbottoms and a headband. Girls — yours is the one with the icon wearing the fringed vest!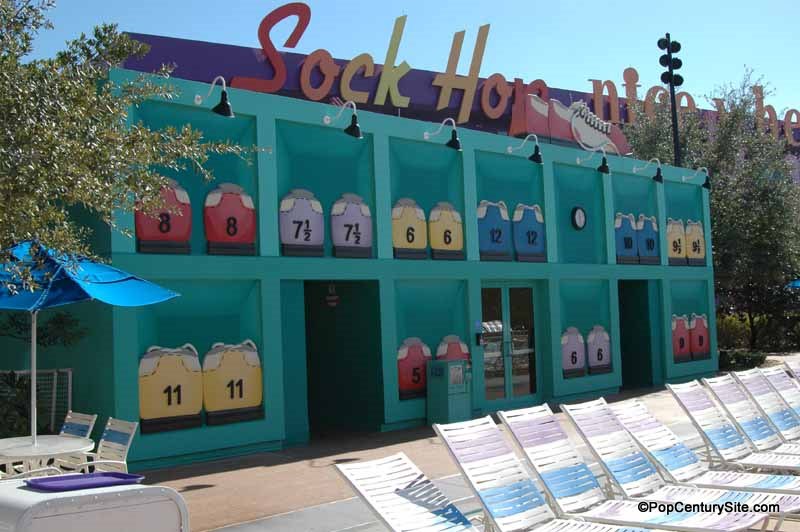 50s Laundry Room at the Bowling Pin Pool
This is one of the best themed laundry rooms in all of Disney World, to be sure. If you take a quick look and aren't sure what it is, not to worry. It takes most folks at least a couple of glances to realize that it's a giant shoe repository for the "bowling alley" theme around the pool!
No matter what your size, you're sure to find something that will suit you right here!
Other Guest Laundry Info
Now that you know where you're going when it's time to get a little laundry done, here are some more specs about the mechanics of the situation. Guest laundry facilities at Pop Century Resort are open to all guests staying at the resort. Standard size washers and dryers are available for $2.00 per use, and detergent, bleach, and fabric softener are available for $1.00 per one-use box.
Laundry rooms can be opened with a current guest key card, and change machines and vending machines are available in all laundry rooms.
Do you love Disney's Pop Century Resort? Join fellow fans over on our facebook page and follow us on our twitter feed @DisneyHotelsFan!
This post is part of the DisMarks Disney Blog Carnival! Check it out for more great Disney-related content and information.