The dining at Disney's Pop Century Resort is (in our humble opinions) the best of the Value resorts — and maybe better than a couple of the moderate resorts as well! And while the menus at the Pop Century Food Court and Peace of Pizza Delivery change every once in a while, we wanted to capture them as best we could to help you in your planning!
Pop Century Food Court
The Pop Century Food Court has something for everyone, and really does offer some of the highest-quality food court food on property. The area is broken into six main sections, including the Grill, Asian Cuisine, Italian, Sandwiches and Salads, Bakery and Cafe, and Grab and Go. Here are some of the offerings in each area:
Grill: Features a bacon double cheeseburger, chicken nuggets, a veggie burger, chili cheese hot dog, cheesesteak wrap, and blackened fish sandwich.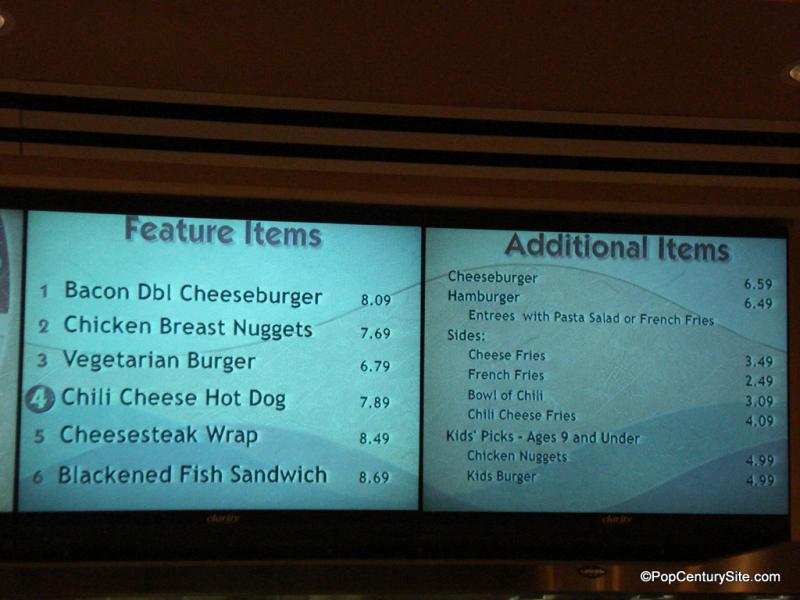 Asian Cuisine: Features pan seared fish of the day, Shrimp or Vegetable lo mein, Nachos Supreme, Big Bowl chicken soup, and beef & broccoli.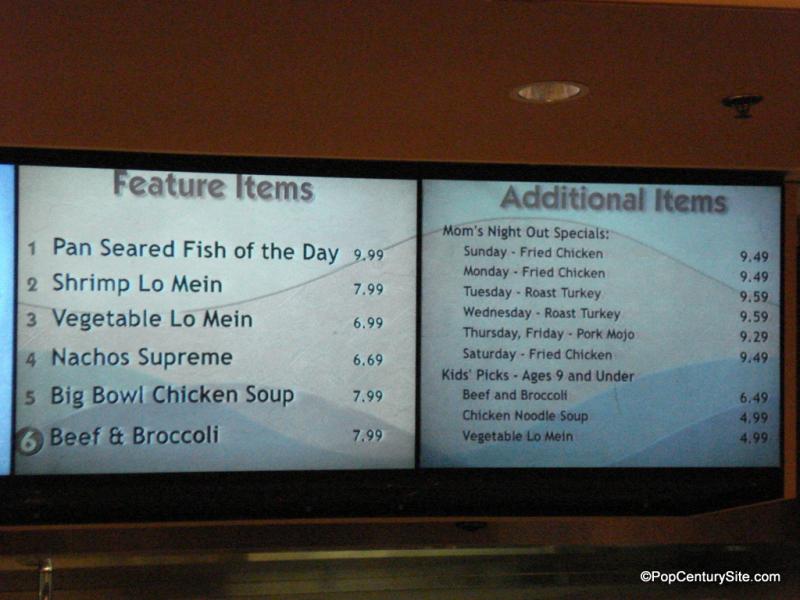 Mom's Night Out: Also sold at the Asian counter are the Mom's Night Out items. These are fun, delicious "TV Dinners" that rotate throughout the week between fried chicken, turkey, and mojo pork!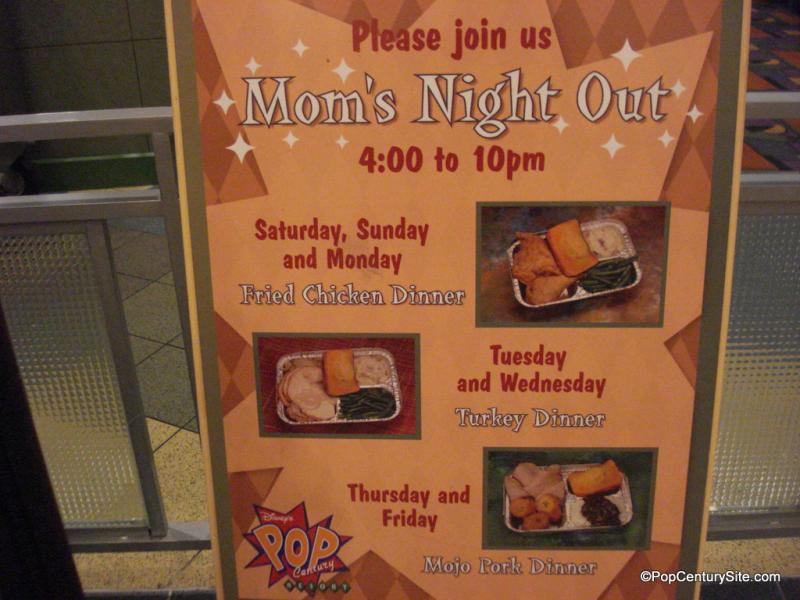 Pizza and Pasta: Features individual pizzas, parmesan crusted chicken, penne alfredo, meatball sub, and veggie lasagna.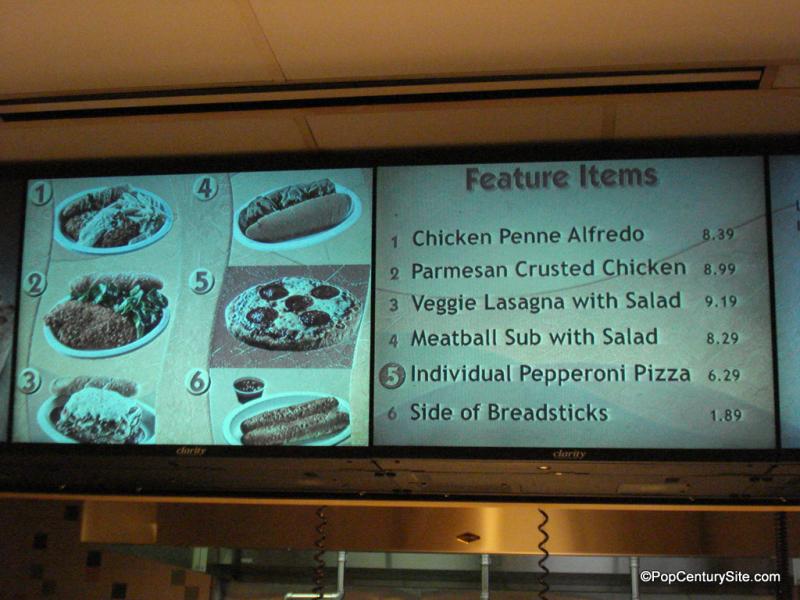 Flatbreads, Salads, and Sandwiches: Features Reuben flatbread, chicken mediterranean, chicken ceasar salad, turkey ciabatta, Asian chicken salad, tuna sandwich, etc.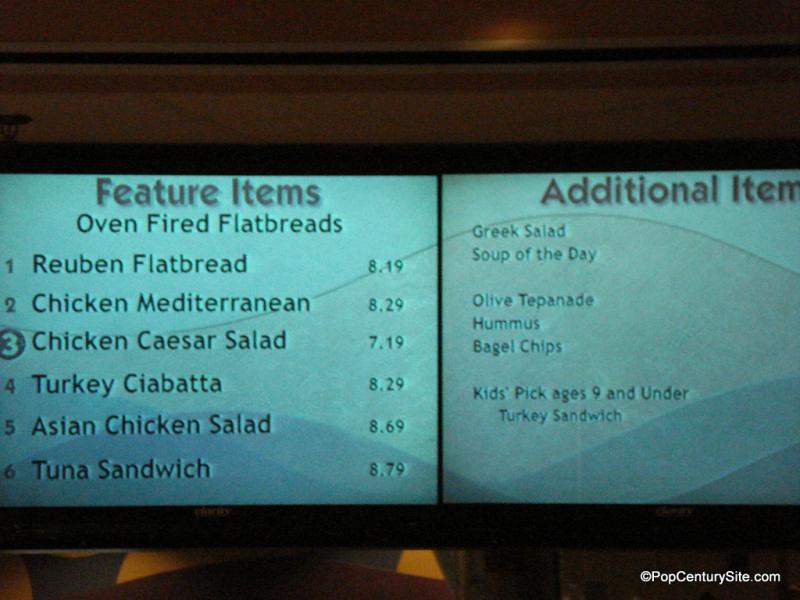 Bakery and Cafe: Features freshly baked brownies and cookies. You can even get ice cream! In addition, the Bakery/Cafe serves as a waffle station in the morning, serving the famous "Pop Century" belgian waffles!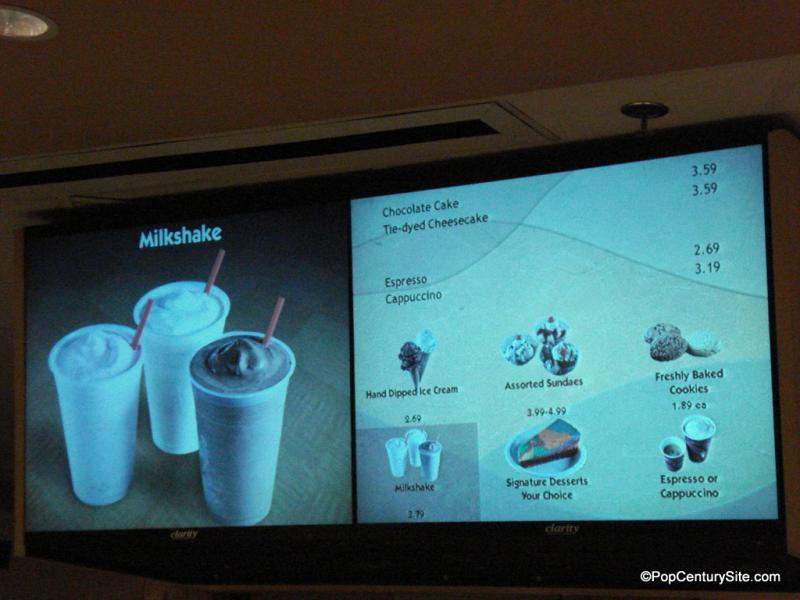 Quick-Service food area: Features grab-and-go items, including fruit, baked goods, salads, sandwiches, eggs, pita and hummus, cereal, ice cream, alcoholic and non-alcoholic drinks, desserts, etc. Check out our Pop Century Dining Pictures for lots of images of the grab-and-go area and the items you'll find there.
Also note: soups are often available during the day! Just ask a cast member where you can find them.
Peace of Pizza
Way out, man! This is some rockin' pizza, dude! Pop Century's Peace of Pizza Delivery Service will bring your piping hot pie — along with side items, salads, and even wine! — right to your resort doorstep. This is a great option when everything else in Disney World is closed and you're still starving! Peace of Pizza delivers from 4pm til midnight.
The best part about Peace of Pizza is the themeing on the VW bus delivery vehicle!
Here's the Menu:
Pizzas
Groovy #1: Large Cheese Pizza
Groovy #2: Large Pepperoni Pizza
Groovy #3: Large Pizza with Pepperoni, Ham, Pork and Ground Beef $17.99
Groovy #4: Large Pizza with Red and Green Peppers, Onions, Tomatoes and Mushroom $17.99
Groovy #5: Large Pizza with Pepperoni, Onions, Black Olives, Tomatoes, Red and Green Peppers and Mushroom $17.99
Sides
Half Dozen Breadsticks with Marinara Sauce
Garden Salad
Desserts
Tie-Dyed Cheesecake (individual serving)
Chocolate Layer Cake (individual serving)
Beverages
Coke, Sprite or Diet Coke – 2-liter bottle
Dasani Water – 1.5-liter bottle
Beer
Budweiser, Bud Light, Coors Light or Miller Lite (16 oz)
Heineken or Corona (12 oz)
Wine
Pinot Grigio, Chardonnay, Merlot, White Zinfandel or Shiraz (single serving bottles)
1/2 Bottle of Chardonnay or Merlot
An 18% Service Charge, $1.00 Delivery Charge, and applicable tax will be added to your order
This blog post is part of the DisMarks Disney Blog Carnival! Check out more fantastic Disney websites and articles over at the Carnival.