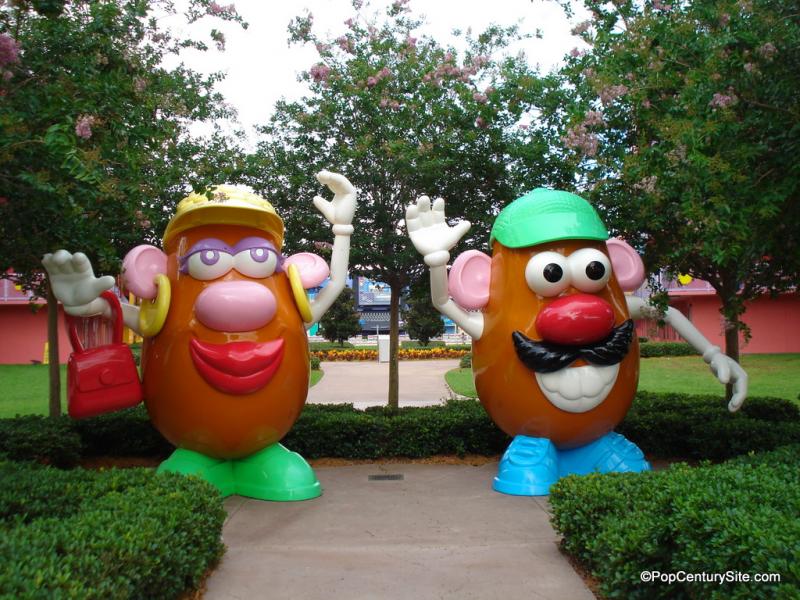 When you're looking at the Value resorts for your next vacation at Walt Disney World Resort, how do you choose between the All-Star Resorts, Pop Century, or Art of Animation?
For us the choice is easy – we love Pop Century enough that we'll normally choose our "home" resort. However, we've also stayed at the All-Star Resorts and we have to say they do have some great options for families.
While we really love the themeing at Pop Century with the oversized, colorful icons representing some of the best decades of the 20th century, we also love the oversized icons at the All-Star Resorts, especially those at the All-Star Movies (which just happens to be our favorite of the three). There's just something really magical about the 101 Dalmatians and the Sorcerer Mickey at the main theme pool.
The dining options at the All-Star Resorts are all similar but with a few differences. Two of the All-Star resorts have seen their food courts updated in the past year – All-Star Music and All-Star Sports. While our heart belongs with Everything Pop (and with Landscape of Flavors!), we do love the updated quick service spots at the All-Stars.
Transportation can be a huge issue at the Value resorts and the one negative for the All-Star resorts is their notoriously not-so-great bus service. The three hotels often share a bus line and that can be downright miserable after a long day at the parks. Pop Century has its own dedicated bus line and that's a win for us.
Perhaps the biggest deciding factor between Pop and the All-Star Resorts? The rooms. If you're a family of 5 and you're looking for a family suite you'll find some at All-Star Music (setting it apart from the other All-Star resorts). Pop Century only offers the standard Value resort rooms, no suites.
If you're looking to save a little money on your hotel room at Disney World, you can choose from five different Value resorts – each offering its own brand of whimsical themeing, great food, and fun guest rooms.
What keeps bringing you back to Pop Century? Let us know in the comments.
Do you love Disney's Pop Century Resort? Subscribe to the monthly Disney Hotels Fan newsletter! Join fellow fans over on our Facebook page and follow us on our Twitter feed @DisneyHotelsFan!