Staying at a new Disney resort can be confusing. Many of them are large and spread out, and with so many buildings, it can be hard to find your way around.
Luckily, Pop Century is pretty easy to understand, but it can help to take a look at an aerial photo of the resort to get your bearings. The best way to determine how the buildings relate to one another is to find the main "anchors" of the resort — in this case, the sections of the resort are anchored by the three pools and the main lobby/dining area.

In the photo below, you can clearly see the buildings of Pop Century nestled along Hourglass Lake. All the way to the right is the Bowling Pin Pool of the 50s section. All the way to the left is the rectangular Computer Pool in the middle of the 80s and 90s section sections. And right there in the middle is the flower-shaped Hippie Dippy Pool of the 60s section. (The only section without its own pool is the 70s section, located between the 80s and 60s sections.) Right in front of the Hippie Dippy Pool is where you'll find the semi-circular Classic Hall lobby area, where shopping and dining are located.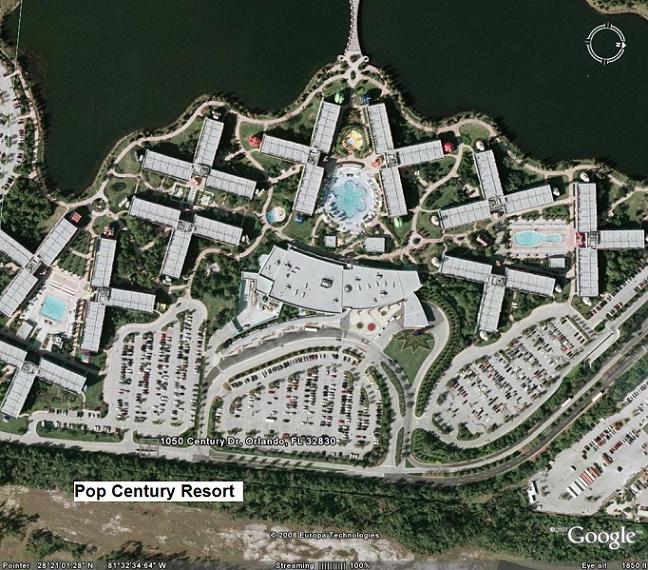 The distance between any building and the lobby is likely to be less than a 5 minute walk, but you should allow 10 minutes to get to Classic Hall from some of the very external buildings.
FYI — in this view, Epcot is located in the upper right-hand corner, so some rooms in the lake-side 50s buildings will be able to see the tops of the Illuminations fireworks from their windows!