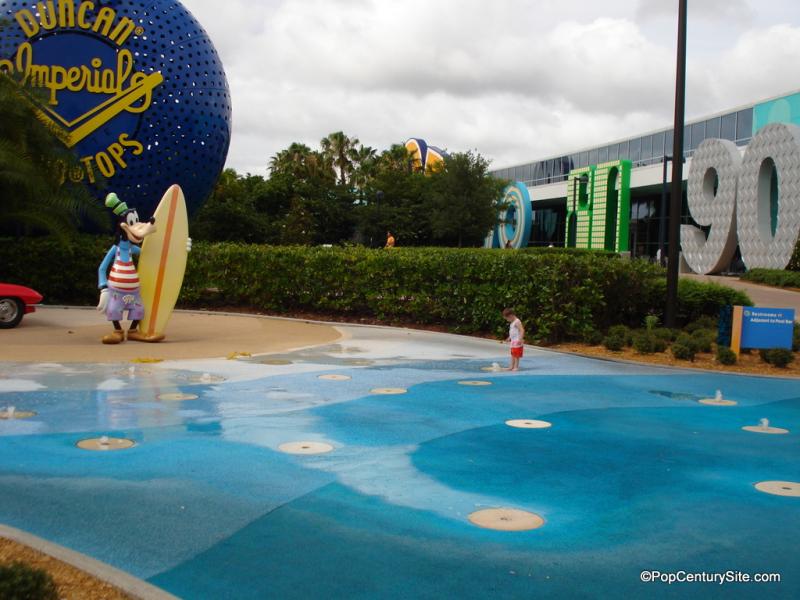 Close your eyes and imagine that you are 6 years old. Your family is vacationing at Disney World, and they choose Pop Century as their resort.
What, then, are you most excited about when you arrive? Let's take a look at Pop Century through a child's eyes.
The first things that you can expect a child to be drawn to are the Pop Icons! Depending on where you're staying, they may gravitate toward the Lady and the Tramp, the Mickey Phone, Mr. and Mr. Potato Head, or Roger Rabbit.
Be sure to give your child a tour of all the areas of Pop Century to let them see all the different Pop Icons, and take a ton of fun photos!
Another exciting part of Pop Century through a child's eyes are the fun-shaped pools! Some parents even say that their children love the pools even more than the theme parks. Whether it's the Hippy Dippy flower pool, the Bowling Pin pool, or the Computer pool, they're all very fun to swim in, especially for younguns!
And over at the Hippy Dippy pool area is Goofy's water play area, which is surely some children's absolute favorite part of Pop Century Resort.
Finally, another really fun place for a kid or a kid at heart is the Fast Forward Arcade. It's close to everything – the pool, the food court, and shopping!
Now, imagine being 6 years old and spending the afternoon looking at Pop Icons, playing in the pool and water play area, and playing fun games in the arcade. That is a fun day and a look at Pop Century through a child's eyes!
Do you love Disney's Pop Century Resort? Join fellow fans over on our facebook page and follow us on our twitter feed @DisneyHotelsFan!