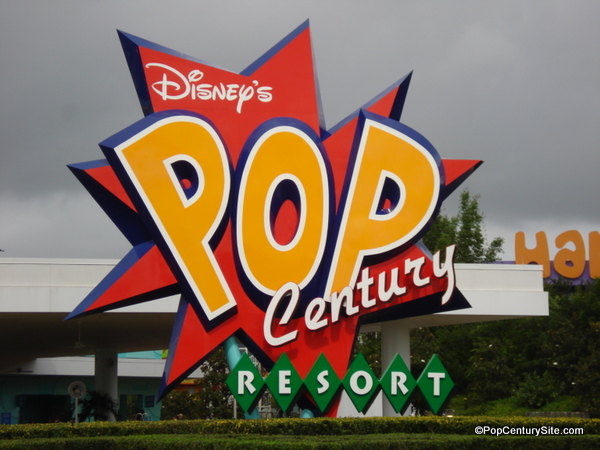 At first blush, Pop Century may not seem to have a lot in common with Caribbean Beach Resort. The themes of these two resorts are very different, and they're at different price points. But both have devoted fans and a lot to offer. So let's have them go head to head in a few key categories.
Location
Many may not know this, but Pop Century Resort and Caribbean Beach Resort are located right next to each other. Caribbean Beach sits just to the north of Pop Century, though their entrances are on separate roads – Victory Way for Pop and Buena Vista Drive for Caribbean Beach. Both are more convenient than some of their value and moderate counterparts, and both have views of Epcot's IllumiNations to the north. So we have to call this one a draw!
Unique Features
Caribbean Beach Resort boasts the fantastic theme pool, pirate-themed rooms, and relaxing tropical vibe. But that tropical vibe can also be found at the Polynesian Resort, Beach Club Resort, and Old Key West, to name a few. Pop Century's uniqueness is what puts it head and shoulders above its Value resort All-Star cousins. Where else can you find tie-dye cheesecake, TV dinners, and bigger than life Pop Icons? The winner here is Pop Century Resort.
Dining
One of the reasons you pay a bit more at a moderate resort is for more dining options, and Caribbean Beach doesn't disappoint here. With table service Shutters Restaurant, the Market Street Food Court, and the fan favorite Banana Cabana pool bar, there's plenty of options for those who don't want to leave the peaceful paradise. Meanwhile, Pop Century has the Everything Pop Food Court, Peace of Pizza pizza delivery, and Petals Pool Bar. But without a table service offering at Pop Century, we have to give the edge here to Caribbean Beach Resort.
Guest Rooms
Rooms at Pop Century and Caribbean Beach Resort are quite similar. However, Caribbean Beach's rooms are about 100 sq. ft. larger, and a refrigerator is included at no added cost (although you are paying more for the room anyhow). Pop Century's rooms are in the process of being updated to include flat-screen TVs and other upgrades, while Caribbean Beach's rooms were recently updated to include Finding Nemo-themed wallpaper borders and bedspreads. For what you are paying for each resort, this category is again another tie!
The winner? No clear answer here. Both Pop Century and Caribbean Beach receive a win apiece and share two ties. Both are equally great!
Have you stayed at both Pop Century Resort and Caribbean Beach Resort? What's your favorite feature of each? Leave a comment below.
Do you love Disney's Pop Century Resort? Join fellow fans over on our facebook page and follow us on our twitter feed @DisneyHotelsFan!
This post is part of the DisMarks Disney Blog Carnival! Check it out for more great Disney-related content and information.