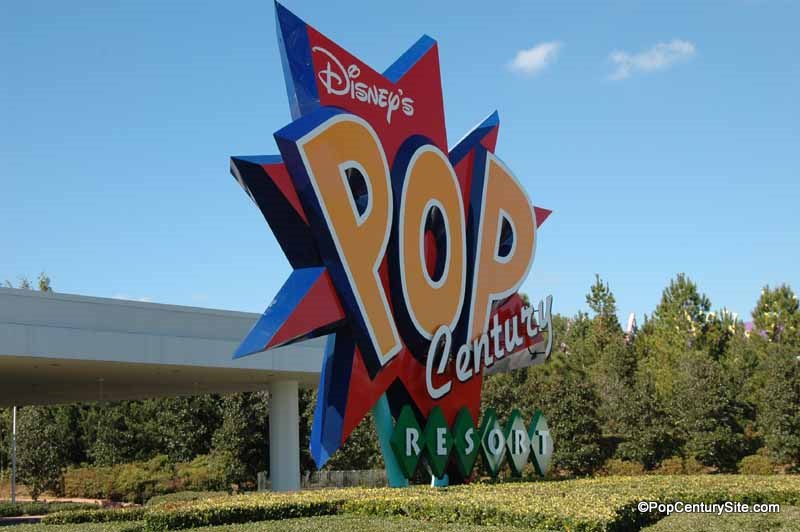 Pop Century is ready to "game, set, match" with All-Star Sports Resort! Who will win this Disney World Value resort battle? Let's look at a few key areas and let them duke it out!
Guest Rooms
We're positive that the rooms at All-Star Sports and Pop Century are almost exactly alike. Rooms at All-Star Sports were renovated in 2008, and Pop Century rooms finished renovations recently as well. Rooms at both resorts are 260 sq. ft., with colorful, whimsical motifs. So once you're in the room itself, there's little difference between the two resorts. We call this category a tie.
Location
Pop Century is located near Epcot and Hollywood Studios, while All-Star Sports is located near Animal Kingdom and Blizzard Beach. Of the three All-Star resorts (Movies and Music being the other two), All-Star Sports is located nearest to the resort entrance. We give the edge here to Pop Century, which we think has a more central location — plus views of Epcot's IllumiNation's in certain spots!
Dining
Pop Century has the Everything Pop Food Court, Peace of Pizza pizza delivery, and Petals Pool Bar. All-Star Sports has the End Zone Food Court, pizza delivery and Team Spirits pool bar. So the types of eateries are the same. But, WDWForGrownups.com recently rated Everything Pop Food Court as one of their top 5 resort counter service eateries, so we'll go with their reasoning and give Pop Century a slight edge in the dining category.
Special Features
Both resorts are highly themed, with larger-than-life icons. At All-Star Sports, you can find BIG baseball, basketball, football, surfing and tennis icons, while Pop Century has the pop icons from the 1950s through 1990s that we all know and love. Other special features are similar at each resort, so we call this category a toss-up!
Overall, Pop Century wins here. With a more central location and a slight edge in dining, we have to admit that among the Value resorts, we're completely biased — we love Pop Century!
Do you love Disney's Pop Century Resort? Join fellow fans over on our facebook page and follow us on our twitter feed @DisneyHotelsFan!