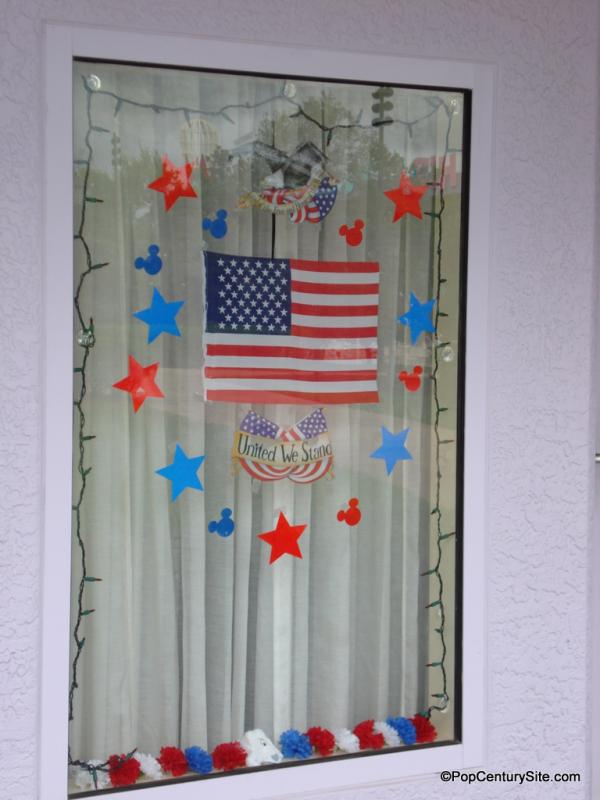 Something that's popular for families staying at Pop Century is decorating their front windows. You can have a lot of fun with this with a little creative thinking before your next trip. Here are some ideas:
1. Your child's favorite Disney character: Got a Stitch fan in your clan? Or a little princess who just loves her Cinderella? Go get some cling-on decorations and let them decorate the window themselves!
2. Holiday decorations: Celebrating Christmas at Disney World? Easter? Valentine's Day? No matter the time of year, you can get creative with celebrating your favorite time of year. You could even get a strand of Christmas lights!
3. Celebration decorations: Celebrating a honeymoon, anniversary, birthday or graduation? Find some decorations at your local party store and let everyone know!
4. Attraction decorations: Got a favorite Disney World attraction? Try themeing your window to Pirates of the Caribbean, Jungle Cruise, Haunted Mansion, Soarin', Test Track, Kilimanjaro Safaris, Expedition Everest, Toy Story Mania … the list goes on!
Oh and be sure to not forget the tape or other supplies you'll need to make your stuff stick!
Do you love Disney's Pop Century Resort? Join fellow fans over on our facebook page and follow us on our twitter feed @DisneyHotelsFan!