We asked our Facebook fans: Which is the best decade to request for your room at Pop Century, and why? Here's how each of the decades stacked up in our poll.
FIFTIES
Six votes were received for the 50s area at Pop Century.
Jamie K. said, "It's just fun and we like the bowling pin pool."
Jana R. said she loves the music and icons!
And Jennifer B. said she prefers the 50s facing the lake. She said her daughter calls it, "Staying behind Tramp's head."
SIXTIES
The 60s received three votes as a favorite decade to request.
Why? Rika R. said it's "because it's centralized and easy to get everywhere from there." Trina W. agreed, adding "for the convenience."
SEVENTIES
The 70s received three votes, and was noted for both convenience and quiet atmosphere.
Robyn C. said she likes the 70s because of its proximity to the buses, food court and "no pool, so it's quiet." Michael B. agreed: "Not too far from main pool and dining area but far enough so you don't hear the noise."
Kelley B. said she and her family enjoyed a room in the 70s on the third floor with a view of the lake. She said it was "still cool in the early afternoon, great view of hourglass lake, and close to pool, laundry and dining but far enough away for peace and quiet."
SIXTIES AND SEVENTIES
Two voters said they enjoy both the 60s and 70s.
Janna H. said, "it's a toss-up between the 60s and the 70s. I like facing the lake or just facing away from everything else."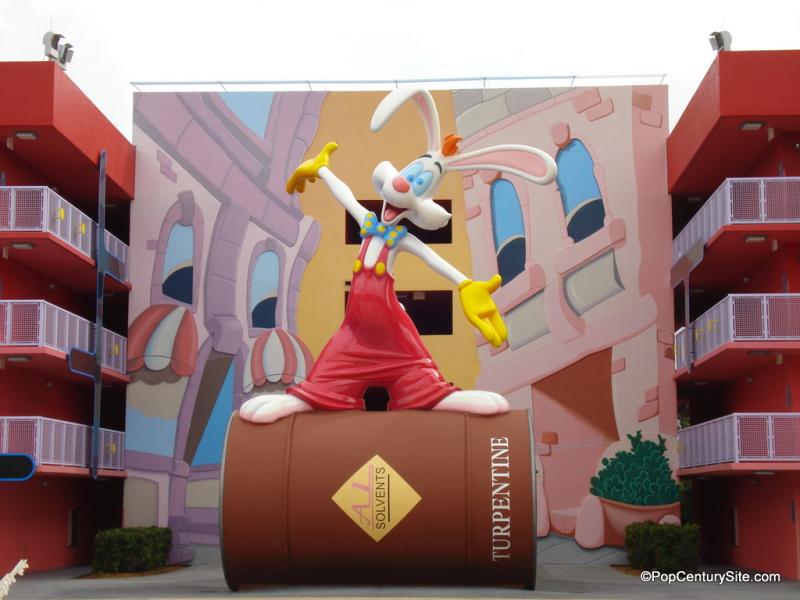 Gale C. likes the 60s and 70s for the best memories of her youth, "and the coolest toys ever!"
EIGHTIES
The 80s area received one very enthusiastic vote.
Anna S. said, "Hands down the 80's. I love Roger Rabbit and it seems less busy in that area. Just booked today for our return visit to Pop. Can't wait!"
NINETIES
The 90s area, sadly, received no votes in our poll as a preferred area at Pop. But we have stayed in this area before and while it can be a hike to the bus stop and food court, we have no other major complaints!
So what is your favorite decade to request at Pop Century, and why? Leave a comment below!
Do you love Disney's Pop Century Resort? Join fellow fans over on our facebook page and follow us on our twitter feed @DisneyHotelsFan!