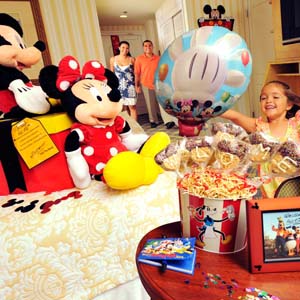 If you're headed down for your Walt Disney World vacation to celebrate a special occasion, why not let Disney's Enchanted Florist create some magic for you! Floral & Gifts offers a wide variety of services that will sprinkle a little extra pixie dust on the loved ones you're traveling with an in room celebration! No one can make an entrance more spectacular than Disney and the Dream Makers are hard at work to bring some pizazz to your welcome home.
Are you interested in a Grand Welcome from Mickey Mouse himself? With the help of the Disney Florist Mickey Mouse will announced your arrival by placing a "surprise" sash over your Pop Century room door! He just may slip into your room to create a moment to remember with a 22″ Mickey and Minnie plush pair, a personalized blanket, and a Mickey Mouse – themed welcome package waiting for you. Mickey knows that traveling can make you hungry so he'll leave a welcome crispy treat arrangement in a popcorn tin set on the table too. A personalized welcome note lets your family know that Mickey's so very glad you've come to visit. And… if you take a peek around you may catch a glimpse of Tinker Bell's shadow, because she loves to sprinkle Pixie Dust on you!
Mickey's Grand Welcome is just one of many special packages the Disney Florist can create to start your Walt Disney World vacation off right. If you're looking to make a Princess' Dream Come True, or are there for a Thrilling Pirate Adventure, the Dream Makers will be there to customize a surprise that will be sure to wow!
For more information about how you can add some pizzazz to your arrival at Pop Century contact a Disney Florist Dream Maker at (407) 827-3505! What are you planning to celebrate on your next trip?