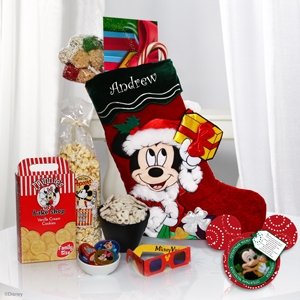 If you love spending Christmas Vacation in Walt Disney World for all of the wonderful winter decorations, you may have wondered about bringing it right into your room. Disney Resort leaders welcome guests to decorate the interior of their rooms during the holiday season, but ask that guests be sure to use safe decorations that will not damage the finishes of the rooms walls and furnishings.
If bringing along a Christmas Tree doesn't sound like fun to you, never fear, Disney Floral and Gifts has a wide array of solutions to make your room sparkle and shine. Let the enchanted florist deck the room and surprise your family with such holiday favorites as personalized Santa Mouse Ears, Mickey Stockings full of surprises, or even a fully decorated 4 ft tall Christmas Tree!
This year the elves at the Enchanted Florist have come up with the ultimate Disney in room celebration. You'll be welcomed with a festive Christmas sash over the door. Once inside, you'll notice Luminaries shining around the room. On the bed, a plush Mickey Mouse and Minnie Mouse, dressed in holiday hats, and a pillowcase that entices you to a peaceful slumber. A friendly note tells you about the presents Mickey and Minnie have left you with a special "Disney Kiss Goodnight." The Disney Florist has everything you need to make your Disney Christmas one to remember! For smaller budgets there is a wide array of stockings, bouquets, ornaments and surprises to keep things Merry and Bright.
For more details on how to turn your Disney Hotel room into a magical holiday treat all its own contact the Memory Makers at Disney Floral & Gifts. Call (407)WDW-GIFT (4438), 8:00 a.m. – 6:00 p.m. seven days a week. Please allow 48 hours notice to make your dreams come true!
Product availability is subject to change.
Do you love Disney's Pop Century Resort? Join fellow fans over on our facebook page and follow us on our twitter feed @DisneyHotelsFan!