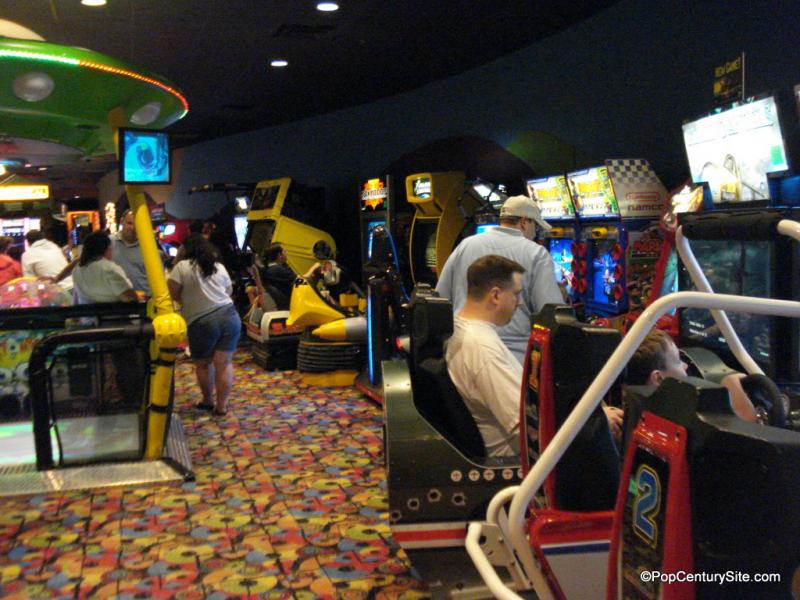 My family loves to spend time together on our vacations to the Walt Disney World Resort, but after a few days of family togetherness, sometimes Mom just needs some alone time. When staying at the Pop Century Resort, that means it's time to send the older kids to the Fast Forward Arcade! Open from 7:00 AM until 12:00 AM, this arcade's hours are fun filled morning, noon and night.
Do you ever need just a few more minutes to get ready and the kids are antsy? Perhaps you could send the tweens and teens to Fast Forward while you get ready. They'll will find Fast Forward Arcade in the center of everything located in Classic Hall. Close to bus Stops, Fast Forward is a great spot to meet up with the kids before getting a bite to eat, or heading off to the park for the day.
You don't have to worry about saving your quarters, because like most Disney Arcades, Fast Forward runs on an Arcade Cards system. You must purchase points to play and they're loaded onto an Arcade Card. $1.00 will buy you 50 play points, $5.00=250, $10.00=500, $20.00=1000, and $25.00 will buy you 1250 play points. Cards can be recharged throughout your stay and are a great budgeting tool for the kids.
One of the best parts about the Fast Forward Arcade is that winning games earn points for prizes! Your dedicated gamer kids can earn their own Disney themed souvenirs to take home by killing aliens and driving race cars. From Guitar Hero to Air Hockey the Fast Forward Arcade is full of fun activities to keep your young gamers busy.
Have you spent time at Fast Forward? How much money do you budget for your kids to play? Have you won any great prizes? Leave a comment and let me know!