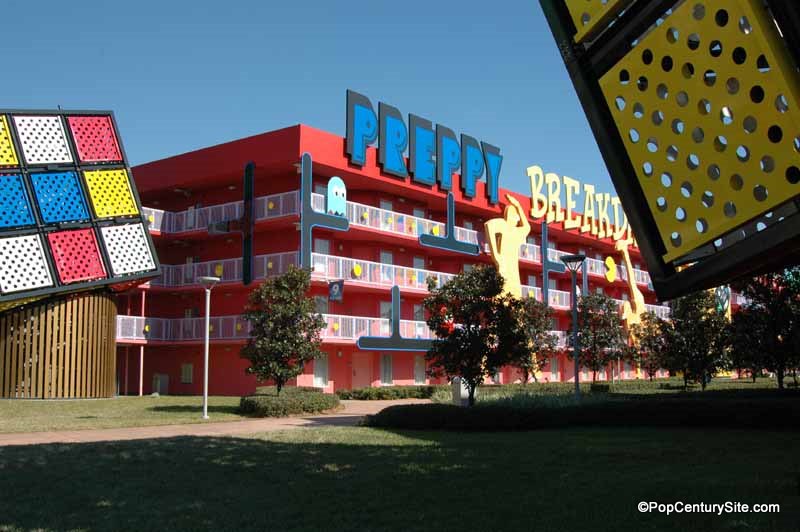 As we march out of January and head into the short month of February it's time to start thinking about our summer vacation – and if that means a stay at Pop Century it's a good time to talk about the Top 5 things you should do at Pop Century this year!
We just LOVE staying at Pop Century and it's always on the top of our list when we're trying to decide where to stay on our Walt Disney World vacation.
Our favorite section at Pop has to be the 1950s section. This means, the first thing you should do at Pop this year is request a room in the 1950s section – for a couple of reasons. First, the section has an awesome quiet pool – the Bowling Pin Pool! Second, you're SO CLOSE to Classic Hall and we prefer this section to the 1960s. And finally, we just can't get enough of Lady and the Tramp – two of the icons for the section.
Next on the list is making a visit to the Art of Animation! The hotel is a short walk over Generation Gap Bridge which means it's a perfect place to visit for a quick meal (lunch or dinner here is amazing at Landscape of Flavors – the tandoori shrimp with an extra side of Naan bread…oh my!) You'll want to spend some time exploring the AoA – especially the Cars section of the hotel. Wow!
Of course we always love planning a resort day into our itinerary – even if it's just half a day. You need to relax and not worry about where your next FastPass+ is. Chill out by the pool, soak up the sun (or shade if you prefer), and just be on vacation.
While you're relaxing poolside order an Orange Dream from the Petals Pool Bar. Trust us. It's amazing.
And finally, when your vacation is over and the post-Disney hangover is beginning….why not book another stay at Pop Century? It'll give you something to look forward to and it'll make coming back to reality a little less painful.
What are your plans for your 2015 stay at Pop Century? Let us know in the comments.
Do you love Disney's Pop Century Resort? Subscribe to the monthly Disney Hotels Fan newsletter! Join fellow fans over on our Facebook page and follow us on our Twitter feed @DisneyHotelsFan!