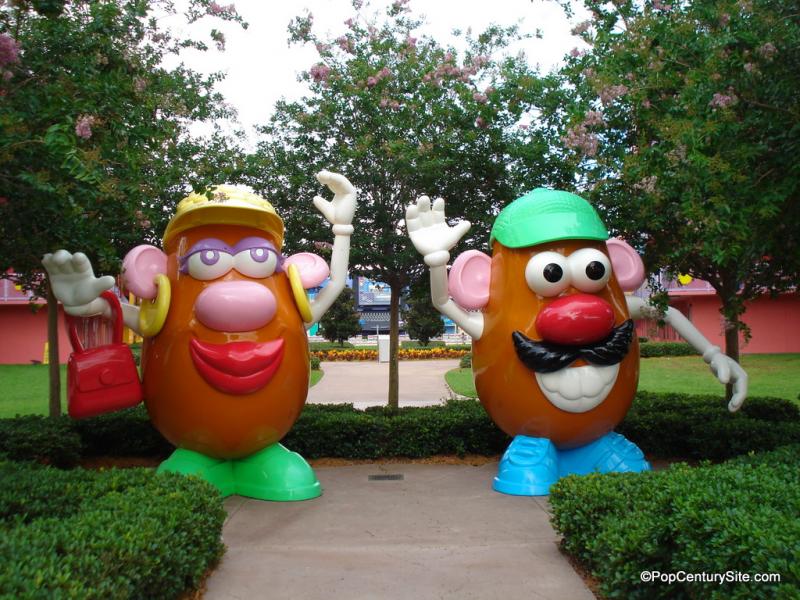 There's so much to love about Pop Century that it might be hard to narrow it down to just a 'top 5' list, but we'll do our best!
One of the things we love most about Pop is the themeing! We could walk around the resort for hours just taking it all in from the icons on the buildings to the giant and colorful icons in each decade. Every time we're at Pop Century we discover something new when it comes to the themeing and it's so much fun to take pictures of our favorite icons.
We also love (love! love!) Everything Pop. In our humble opinion it's one of the best quick service spots at the Walt Disney World Resort hotels, with Art of Animation's Landscape of Flavors always coming out on top. Not only can you get some great eats at Everything Pop – including Pop Century waffles, French bread pizzas, and of course tie dye cheesecake – but it's also a great gift shop!
Now speaking of Art of Animation, we love that we can walk to this amazing hotel to (1) check out the icons and fun themes, and (2) dine at Landscape of Flavors. Dinner at this food court is out-of-this world (get the Naan bread as a side…and the Tandoori shrimp as an entree)! The other nice thing about the close proximity of these two hotels – if the Pop bus line is too long at the theme parks, just hop on the AOA bus and walk across the bridge to get "home."
Of course no stay at Pop Century is complete with a visit to the pools – and there are three great pools to choose from here. You can visit the Hippy Dippy Pool, which is the main themed pool, or you can stop by the Bowling Pin Pool in the 1950s section or the Computer Pool near the 1990s and 1980s sections. No matter where you choose to swim you'll have a blast!
And last but not least, we love that Pop Century has its own dedicated bus line. For a value resort this is a wonderful thing. And even though you might wait in a long line at the theme parks you know that once you're on the bus the only stop you're making is at Pop Century!
What do you love about this resort? Let us know in the comments.
Do you love Disney's Pop Century Resort? Subscribe to the monthly Disney Hotels Fan newsletter! Join fellow fans over on our Facebook page and follow us on our Twitter feed @DisneyHotelsFan!