Pop Century's Everything Pop Food Court is, in my opinion, the best food court among the Walt Disney World Value Resorts. And it definitely doesn't disappoint! The variety of food options available is almost overwhelming — and oh-so 20th Century!
Tie-Dye Cheesecake
The Pop Century Tie-Dye Cheesecake is one of the most talked-about food items at the Everything Pop Food Court. It's literally, well – tie-dyed! With a red velvet cake "crust" and psychedelic colors that make you say "whoaaaa, man," this cheesecake has been a hit ever since Pop Century opened in 2003. You can find Tie-Dye Cheesecake in the Grab 'n Go fridge area at the back of the food court.
Want to try to attempt the Tie-Dye Cheesecake at home? Try this recipe from the Disney Food Blog!
Pop Century Waffles
The Everything Pop Bakery/Cafe serves as a waffle station in the morning, serving the famous "Pop Century" Belgian waffles! Many other WDW food courts serve Mickey waffles, but at Pop Century, they're made with a big old Pop logo smack in the middle of the waffle. Check out this great photo of a Pop waffle on Flickr. Why not try one during your next stay?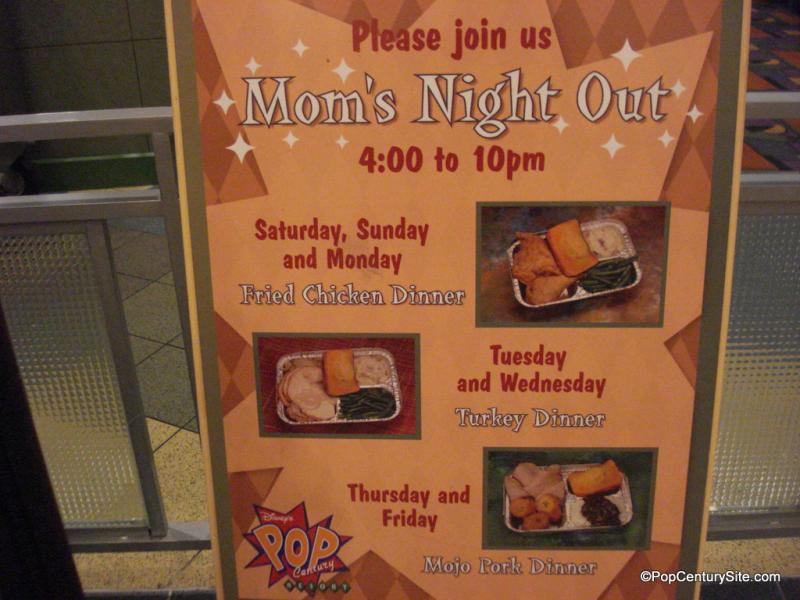 Mom's Night Out TV Dinners
The Mom's Night Out TV Dinners are a throwback to the 1950s, and it may be the best TV dinner you've ever had – nothing frozen here! Head over to Everything Pop Food Court between 4-10 p.m., when one of the stations morphs into TV dinner central.
On Saturday, Sunday, and Mondays, you can nosh on fried chicken; Tuesdays and Wednesdays feature turkey; and Thursday and Friday you can try mojo pork. All the dinners come with yummy cornbread, green beans and mashed potatoes.
Let us know if you've tried a Mom's Night Out TV Dinner, a Pop Waffle or the famous Tie-Dye Cheesecake and your opinion on these unique Pop eats in the comments below.
Do you love Disney's Pop Century Resort? Join fellow fans over on our facebook page and follow us on our twitter feed @DisneyHotelsFan!
This post is part of the DisMarks Disney Blog Carnival! Check it out for more great Disney-related content and information.