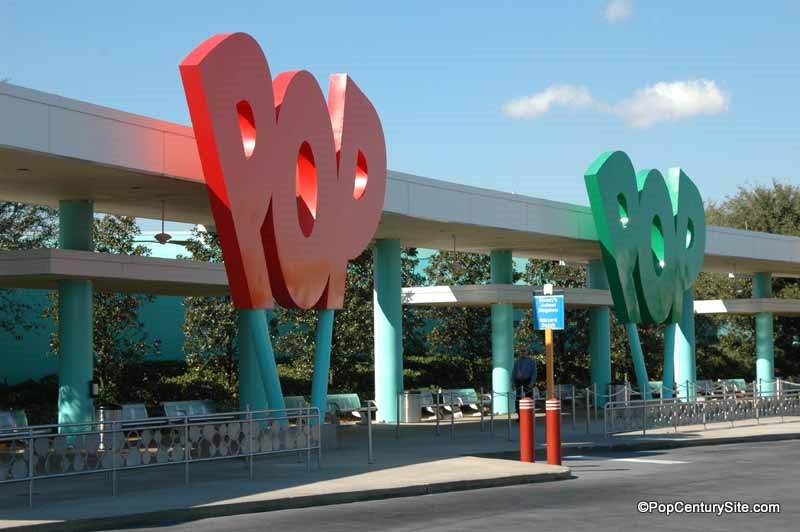 Over on our facebook page, we recently posed the question: "If there was one thing you could change about Pop Century Resort, what would it be?"
Many of the answers we received fell under the category of Pop Century room improvements — mainly bigger beds, bigger bathrooms, and the addition of microwaves, mini-fridges and coffeemakers without any added cost.
Tami S. said, "Love POP, but hate sleeping alone in a bed, because it's too small for me and Hubby. So one of us has to share with our young son."
Kathie M. said, "I agree with bigger beds….I share with my 9yr because she kicks and hits during the night and I don't want her to share with her siblings."
Lesa T. said she's like to see two bathrooms in each room, and Nathalie J. would like to see family suites. Luckily we'll see those within a year at the Art of Animation Resort. And Lorin A. said she'd like to see trundles under the beds like at the Port Orleans Resort.
Finally, Laura G. wants not only bigger beds, but also free Internet. This is an idea we can get behind!
Another serious concern raised by our Facebook fans is the location of the smoking area, at the rear of Classic Hall. Seven different folks raised serious concerns and said they wanted it moved.
"I hated walking with my family through the smoke to and from the food court," Barbie S. said.
Leah S. added, "Those of us with severe breathing issues aren't too fond of walking through a wall of smoke to eat."
Another area of concern: Disney Bus Transport. Our Facebook fans mentioned the long wait for buses, the long walk to the pick-up location of the Pop Century buses at the theme parks, a want for more frequent buses, and a covered bus area at Pop Century.
Another thing that folks said they would change at Pop Century is the addition of a hot tub or two. Four different folks cast their vote for this.
MaryBeth R. had another great idea: "Add a SLIDE to the COMPUTER POOL!" she said.
As far as dining goes, a few folks wished for a few different things. Jane P. said she'd like to see, "an additional dining area, after three days I was so fed up with the food options!"
Tom M. said, "Bring back frozen Cokes!"
And Carolyn P. said she would change things to have, "a more orderly/organized food court area. People were criss-crossing all over the place and its hard navigating through it all with little kids AND carrying food trays!"
There's just a few other things that folks would change.
Leah S. said she would have, "a more direct pathway for those in the 80's/90's that doesn't take us through a parking lot/dumpster arena."
And Carolyn P. said, "maybe some better washers/dryers for guest laundry. Love everything else about POP and can't wait to go back!"
We had a few jokers in the bunch too. What Tom S. would change? "Me not being there now."
What Renee S. and Jamie S. said they would change –be there much more often!
And Tammy K. said she would change things this way: "That I'm comped there for unlimited visits."
Us too, Tammy, us too.
What one thing would you change about Pop Century Resort? Leave a comment below!
Do you love Disney's Pop Century Resort? Join fellow fans over on our facebook page and follow us on our twitter feed @DisneyHotelsFan!