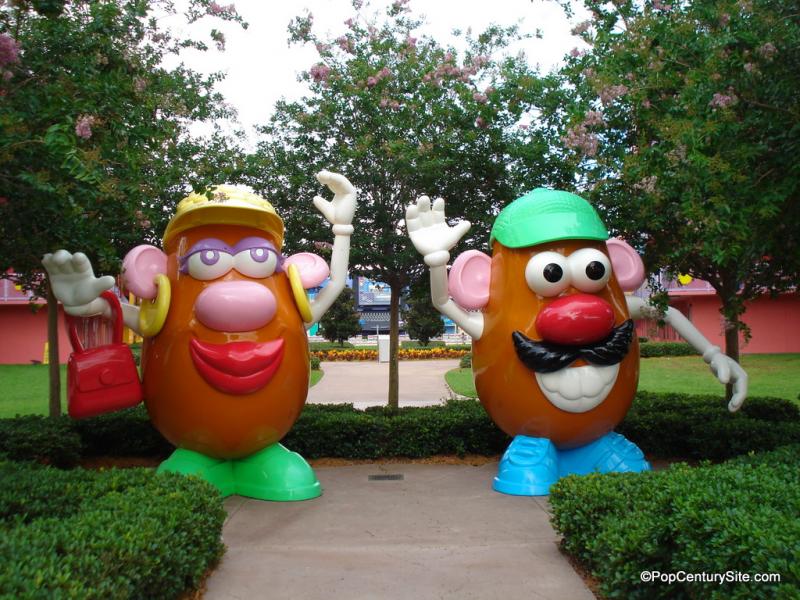 Most Disney fans have their "favorite" resort – one they keep going back to, despite the fact that "stay in every Walt Disney World Resort" is at the top of their Disney bucket list.
Me? I love Pop Century (and not just because I'm writing this post). I really, really love Pop.
Now don't get me wrong – having stayed at another value resort, six different deluxe resorts, and one moderate resort during my WDW travels, there ARE other resorts I long to stay at again (Animal Kingdom Lodge, Disney's Polynesian Village, and the Wilderness Lodge top that list), but when it comes to value resorts – Pop is tops for me and my family.
There are so many things we love about the resort, but the over-the-top themeing is our favorite. The larger-than-life pop culture icons make this resort something special and it's so much fun to walk around the resort and look at the icons. It is especially gorgeous at night. Try it!
We also love the pools – all three of them! Each pool has its own distinct "personality" – the Hippy Dippy pool is loud and fun, and the computer pool and bowling pin pools are a bit more laid back and reserved. One of our favorite rooms was in the 1990s section just steps from the computer pool (watch out for that elevated keyboard though!)
The Everything Pop food court and gift shop is truly a one-stop shop – not only can you grab a great and quick meal morning, noon, or night .. but you can also find that perfect souvenir. We love the convenience of having it all in one place, especially on check-out day when you have a bunch of snack credits to use up (Mickey krispie treats for the road) and you realize you forgot to buy your dog sitter a gift!
And unlike the All-Star resorts (which are just fine in our humble opinion) Pop Century has its own bus line. This is especially important at the end of a very long and hot summer day when the kids are minutes from a meltdown – and you know there's only one stop the bus is making. Pop Century.
There's really so much to love about Pop that we could go on and on (a top 20 list perhaps?). The resort has such a fun vibe you can't help but love it!
What do you love most about Pop Century? Leave us a comment and let us know!
Do you love Disney's Pop Century Resort? Join fellow fans over on our Facebook page and follow us on our Twitter feed @DisneyHotelsFan!