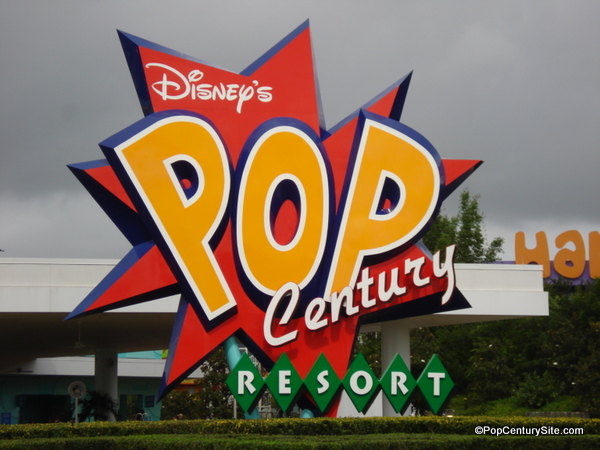 Why should you choose a Disney World value resort over moderate or deluxe resorts, or off-property hotels? This is a common question. Oftentimes folks mull over staying at a Disney value resort vs. off-property, or at a Disney value resort vs. a moderate or deluxe resort. Here's our reasons why you should choose Pop Century and its fellow value resorts.
Why you should stay at a Disney value resort vs. a hotel off Disney property:
1. Disney transport access: Being able to fly into Orlando and take advantage of Disney's Magical Express service to Walt Disney World is a great benefit of staying on property. Plus, at Pop Century and other value resorts, Disney bus transportation is frequent and plentiful.
2. Disney Dining Plan: While prices at Disney value resorts like Pop are comparable to off-property hotels, or even a bit more expensive, none of those hotels have access to the Disney Dining Plan. In our opinion, Disney food is a theme park of its own, and knowing that food is paid off ahead of time is great. There's several plans to choose from, too.
3. Extra Magic Hours: Bring able to get into a park an hour early, or stay up to several hours late is both convenient and magical! If you haven't tried running around at the Magic Kingdom past midnight, or seen the animals an hour earlier at Animal Kingdom — well, you simply must take advantage.
Why you should stay at a Disney value resort vs. a Disney moderate or deluxe resort:
1. Amenities: While deluxe and moderate resorts boast extras like table service restaurants, hot tub jacuzzis, fitness centers, and recreational activities, value resorts still provide the basics, and then some: food courts, shopping, pools (and pool bars), plus great themeing! So unless you absolutely must soak in the hot tub, or demand a table service dinner at your resort, a value resort is a better cost-saving choice for you.
2. Value: Moderate resorts often cost $50 or more per night more than a value resort, and deluxe resorts cost hundreds more per night. If you have a set budget for your Disney World vacation, odds are staying at a value resort will allow you to add more to your vacation, like a dining plan, or upgrading tickets to Park Hopper or Water Park Fun & More.
3. Theme park time: If you're a real theme park ranger, then you probably see your hotel room as simply a place to shower and sleep between long days at the parks. In this case, a value resort is more than enough for your taste. We certainly wouldn't want to "waste" an entire stay at a deluxe resort while spending hardly any time enjoying the amenities there.
Why do you choose a value resort over other Disney resorts or off-property hotels? Leave a comment below!
Do you love Disney's Pop Century Resort? Join fellow fans over on our facebook page and follow us on our twitter feed @DisneyHotelsFan!